South Africans have a lot to smile about despite the current economic slowdown. The 2010 World Cup is almost here and we will reap the benefits long after it has gone.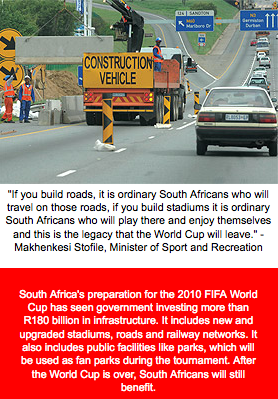 Among the most important benefits of hosting the World Cup is the development of many communities across South Africa.
Without the 2010 World Cup, the host cities and their neighbouring towns would not have some of the infrastructure built for the tournament.
Apart from improved infra-structure, the tournament will also attract more tourism to South Africa. All of this is helping to create jobs for local people.
Traffic problems
Another benefit is the new public transport system called the Bus Rapid Transit (BRT) system, which is developed in Johannesburg, Cape Town, Durban and the Nelson Mandela Metro.
The BRT system will help to solve the problem of too much traffic in the cities. This is caused by people using their own vehicles to travel to work due to a lack of public transport.
The new Gautrain, which is being built, will link Pretoria, Johannesburg and the OR Tambo International Airport. It will reduce traffic and make life much easier for the thousands of people who travel between these destinations every day.
In Durban, a new railway passenger station and a shopping centre are built near the new Moses Mabhida Stadium.
Stadiums
Besides the new and upgraded 2010 soccer stadiums in the host cities, existing stadiums in townships and towns near the host cities are also being upgraded to FIFA standards.
In Gauteng, Soweto's Orlando Stadium and the Rand Stadium are upgraded; in KwaZulu-Natal, the Wadley Stadium in Edendale near Pietermaritzburg and Cedric "Sugar Ray" Xulu Stadium in Clermont are upgraded; and in the Western Cape, the Athlone Stadium in Cape Town is upgraded. They will be used as training grounds by the 32 participating countries.
Airports
As many as three million tourists are expected during the 2010 World Cup. To handle the increase in air traffic, the country's major airports have been upgraded to become world-class facilities.
These include the Johannesburg, Cape Town and Durban international airports. Smaller airports like the Polokwane international airport in Limpopo has also been upgraded.
- Mbulelo Baloyi