More than 3 500 cases of A(H1N1) influenza, commonly known as swine flu, were reported in South Africa by the middle of August. Deaths were reported in the Western Cape, KwaZulu-Natal, Eastern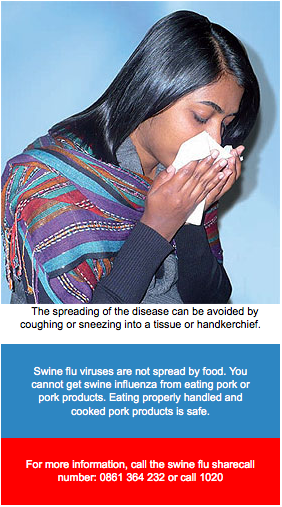 Cape and Gauteng. Government is tackling the swine flu challenge by stepping up its plan to deal with the disease. This includes a major national awareness campaign.
The awareness campaign is run by the national Department of Health in co-operation with some other government departments. These include the Department of Basic Education and the Department of Higher Education and Training.
The campaign is run in addition to steps that government has already taken to prevent the further spreading of the disease.
Hotline
The Department of Health set up a national swine flu hotline aimed at health workers who have questions about A(H1N1). The hotline is operated by the National Institute of Communicable Diseases.
In addition, a sharecall number for members of the public with questions or worries was also set up.
Government has decided not to close schools and other public places like shopping centres. This is because experience in other countries has shown that closure of public places like schools and shopping malls do not prevent the spread of the infection.
The national campaign includes advertisements on national television and radio, as well as on community radio stations.
Information
To spread awareness as widely as possible, pamphlets and posters with information about the disease are distributed to local communities in the languages spoken there. This information is also distributed at taxi ranks, shopping malls and other public places.
In addition, the department has sent letters to heads of schools and universities explaining the challenges of the epidemic with advice on steps to be taken.
Letters have also been sent to religious leaders asking them to share information on the virus with their followers.
Similar letters have been sent to organised labour and business, traditional leaders, community development workers and social workers.
Treatment
Swine flu is an airborne (carried by air) disease that spreads in the same way as seasonal flu, through coughing and sneezing. It cannot be caught by eating pork.
The spreading of the disease can be avoided by coughing or sneezing into a tissue or handkerchief.
The Department of Health urges people to wash their hands regularly and avoid crowded areas, especially if people have symptoms of the flu.
Swine flu can be treated with medication that fights viral infections. This medication is available in South Africa, but may only be used under a medical doctor's direction.
Symptoms can be divided into "mild", "moderate" and "severe". Anyone with moderate or severe symptoms should visit their doctor or clinic as soon as possible.
- Mbulelo Baloyi