PLEASE NOTE:
The games on this page are not a competitions. They are only for fun, so don't send your answers to Vuk'uzenzele.
In South Africa, September is Heritage Month. This is a time when we celebrate our rich cultural heritage.
South Africa has eight World Heritage Sites. World Heritage Sites are places in different countries that are considered to be of "outstanding value to humanity". The purpose of World Heritage Sites is to identify, protect and preserve cultural and natural heritage around the world. There are more than 850 World Heritage Sites in 141 countries.
The following places in South Africa are World Heritage Sites:
iSimangaliso Wetland Park
Robben Island
Cradle of Humankind
uKhahlamba Drakensberg Park
Cape Floral Region
Mapungubwe Cultural Landscape
Vredefort Dome
Richtersveld Landscape
What is Heritage?
Heritage is something that is passed down from generation to generation, like a legacy. It includes things like traditions, culture, land, objects, buildings, monuments and sacred places
uNsCraMble
Read the list of World Heritage Sites above and uNsCraMble the names under the photos below
Print the image below to complete this game...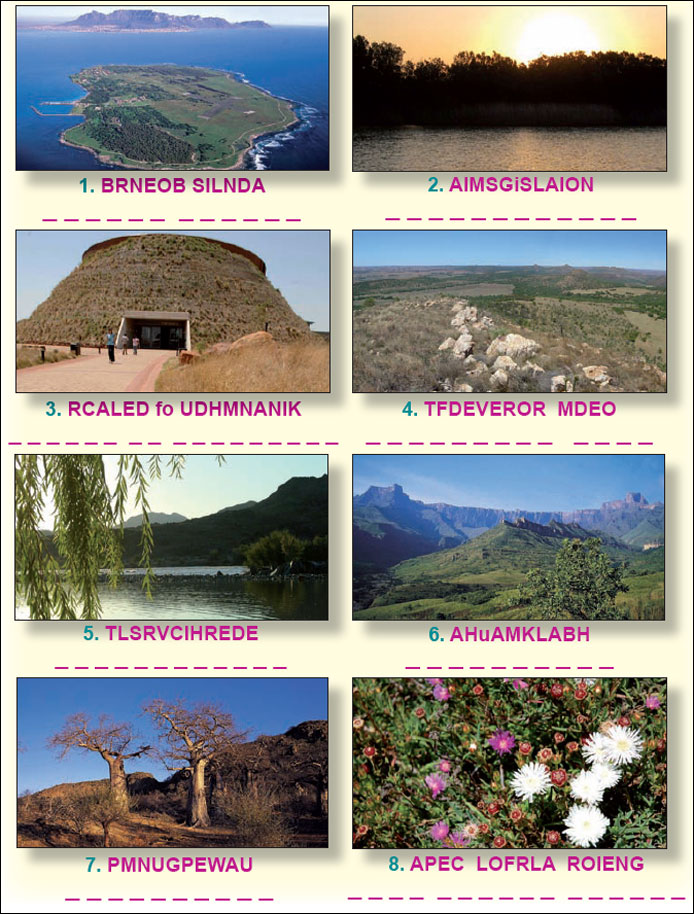 CLICK HERE FOR THE ANSWER
Fill in the missing words
Print the image below to complete this game...

CLICK HERE FOR THE ANSWER