It is hard to believe that it is nearly six months since, as a nation and as individuals, we were all preparing to cast our votes in the fifth general election of our democratic era.
I recall how special and meaningful it was for me as a citizen and President of the Republic to make my own cross on the ballot paper at the Ntolwane Primary School in KwaNxamalala, Nkandla.
But I also recall the deep sense of responsibility I felt to all the people of our beautiful nation when Parliament elected me as President of Republic, tasked with the responsibility to implement radical socio-economic development in our country.
This responsibility is massive, but I am comforted and supported by the knowledge that the overwhelming majority of South Africans used their own ballot papers on the 7th of May 2014 to endorse our vision for a future South Africa.
In the five months since the new administration came into office, government has worked hard to act on the pledges we made to improve conditions in the country.
We have used the change-over in leadership nationally and provincially to make sure that we act on the promises we made during the election campaign to add more chapters to the Good Story South Africa has been able to tell since 1994.
In these five months, we have opened new schools and hospitals; we have been building new roads; we have opened factory plants for foreign investors who have come to our country; we have launched a development bank with our partners in Brazil, Russia, India and China.
We have also led the effort to secure peace and stability in our neighbour, Lesotho, and pleaded for a cessation of violence and a lasting political solution in the Middle East.
Closer to home, we have in the three months since July connected 48 751 households to the national power grid, and another 3 786 using non-grid technologies.
In recent weeks, we also launched the 100-day countdown to the day in December when Unit 6 of the Medupi Power Station near Laphalale in Limpopo will be fired up. This is a major milestone in our quest for a secure, predictable supply of electrical power which we need in our homes and workplaces.
"With the creation of a ministry for small business development, we have increased our efforts to make South Africa a nation of entrepreneurs; a nation of self-driven, self-sufficient people who are able to add to the wealth and wellbeing of our country..."
The Medupi coal power station, the first power station to be built by Eskom in 20 years, is being built near Lephalale in Limpopo.
Unit 6 of the new power station, which has faced numerous delays in its construction, is expected to be synchronised at midday on December 24.
Synchronisation, or first power, involves the generator being electrically connected to the power grid, so that its power is aligned with all the other generators and to generate and deliver electricity into the grid.
With the creation of a ministry for small business development, we have increased our efforts to make South Africa a nation of entrepreneurs; a nation of self-driven, self-sufficient people who are able to add to the wealth and wellbeing of our country.
During this time, we have also struck at the heart of highly organised, violent criminal syndicates in our major urban centres and have worked with international policing and investigative authorities to put a lid on transnational crime.
As I write, men and women in our health services and armed forces are doing our country proud amidst the tragedy of the collapse of the Synagogue Church of All Nations in Lagos, Nigeria, as they prepare to repatriate to South Africa the remains of those who died thousands of kilometres from home.
This is the South Africa in which we live. A South Africa where life is changing for the better each day and where have the means and will to respond to crisis.
To keep South Africa moving forward, I recently convened the Presidential Local Government Summit where we challenged local government to improve its performance and serve the people of South Africa in ways demanded by our Constitution.
Under the theme: "Back to Basics: Serving our Communities Better!" 1 650 delegates from the higher levels of the Public Service and from the ranks of organised labour, business, civil society and academic and research bodies focused on how to create conditions for decent living and happiness for all.
The Summit gave all of us as South Africans a platform to talk straight and plan clearly to improve basic services for all communities.
The Summit was held at a time when government is taking strong action to ensure that officials are in positions or jobs for which they are qualified and for which they have the necessary passion.
We are also taking action against officials who are not doing their work properly and who, when they are disciplined, try all sorts of methods to stay in place or to get as much suspension pay out of the system as possible.
Strong action is not limited to our disciplinary process; where we have a good enough case against officials who have neglected their duty or broken the law in the course of their work, we are handing them over to the criminal justice system for prosecution and the penalties that go with conviction.
In addition, we are taking action against private sector service providers who commit corruption or fraud, or who fail to deliver the services stipulated in service level agreements and contracts.
We will not tolerate this abuse of public funds or of government's procurement from the private sector.
When it comes to service delivery in general, government's responsibilities are clear - and so are the rights of citizens.
But as we think about a better South Africa, we also need to "get back to basics" as citizens in terms of our own responsibilities to the communities in which we live, and to the nation to which we belong.
For us as citizens, these basics involve doing what is right and showing respect for lives and property within our families, neighbourhoods and communities.
These basics involve discussing grievances and frustrations, rather than resort to unlawful or violent actions as a start, and forcing others to the negotiation table.
As citizens, we have every right to keep public officials to account but we should also hold ourselves to account for breaking the law or breaking the unwritten rules and behaviours of our society.
We may raise our fists in anger from time to time, but it's much better to extend a helping hand. We are right to raise our voices, but we should at all times allow others to be heard as well. We can disagree with one another, without allowing differences of opinion to divide us as a people.
Government shares the responsibility and solutions for moving South Africa forward with all sectors of society and we will never turn away anyone with a valuable and workable idea or action.
Let's work together to maintain the momentum of change in our country and let's celebrate our successes even as we look our problems in the eye.
Our dignity and pride as a nation is our greatest asset, and we should treasure this with every thought, word and deed.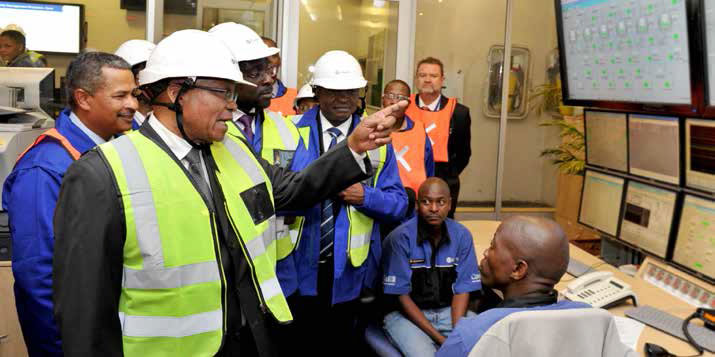 Together let us move South Africa Forward!
Jacob G Zuma
President of the Republic of South Africa