Written by More Matshediso
Thusong Service Centres have made it easier for communities in urban and remote areas to access government services.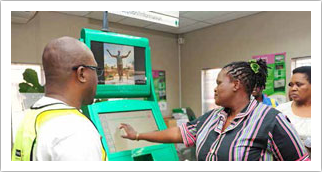 Speaking at the launch of Mamelodi Thusong Service Centre at Denlyn Mall east of Pretoria, Minister of Communications Faith Muthambi said government would continue to put the needs of the people first.
She also used the platform to call on public servants to improve services given to the public.
"It's our belief that given all the service delivery protests that we have seen in recent times, there is a great need for all of us to do some introspection about how we are at the service of our people as a civil service," said the Minister.
Minister Muthambi did a walkabout at the mall, where she introduced the services offered at a Thusong Centre to the people. During this session, the Minister listened to people from all walks of life, including unemployed youth, who had benefited from government's training programmes.
She encouraged more South Africans to make use of the services offered at the Thusong centres.
"These centres are there to build the much needed bridges between the government and its people. Practically, these centres do not just disseminate information for the sake of it, but underline what we mean by development communications – communications that empower our people," said Minister Muthambi.
Serving with care
She also reminded public servants of their responsibility towards communities.
According to the Minister, citizens accessing services were entitled to:
Consultation: Citizens should be consulted about the level and quality of the public services they receive and, wherever possible, should be given a choice about the services that are offered.
Service standards: Citizens should be told what level and quality of public service they would receive so that they are aware of what to expect.
Access: All citizens should have equal access to the services to which they are entitled. • Courtesy: Citizens should be treated with courtesy and consideration.
Information: Citizens should be given full accurate information about the public services they are entitled to receive.
Openness and transparency: Citizens should be told how national and provincial departments are run, how much they cost and who is in charge.
Redress: If the promised standard of service is not delivered, citizens should be offered an apology, a full explanation and a speedy and effective remedy. When complaints are made, citizens should receive a sympathetic, positive response.
Value for money: Public services should be provided economically and efficiently in order to give citizens the best possible value for money.
"If all (public servants) abide by these principles, our service to the public will improve exponentially. I look forward to a changed culture of serving our people," said Minister Muthambi.
Helping the nation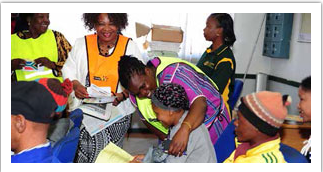 Currently, there are 183 Thusong Service Centres in 107 local municipalities countrywide. These are complemented by 114 integrated mobile routes taking government services to remote areas.
Services such as applications for identity documents, birth certificates, social grants and the Unemployment Insurance Fund, as well as municipal services can be found at the centres.
The services are provided by the relevant departments which have offices at the centres. The Thusong Service Centre Programme is one of the first unique initiatives introduced by the democratic government, and integrates services across the three spheres of government.
This year marks the 15th year of the programme's existence. The programme not only creates access to government information and services, but also enables communities to access opportunities offered by other civil society groups such as businesses, non-government organisations and parastatals.
There are 14 tele-centres at Thusong centres that are managed by young entrepreneurs. This creates job opportunities and helps widen government access to information – particularly in the rural areas.
To date, about 109 centre managers and caretakers have been assigned to oversee the operations of the centres and to ensure that they operate at their best.