Sport, arts and culture
The Gauteng Department of Social Development, together with the Jonathan Butler Foundation (JBF), have found a way to keep children busy and off the streets during the school holidays.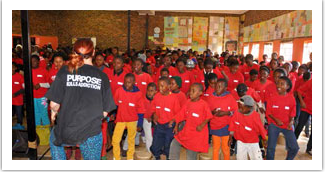 Following the visit by President Jacob Zuma to Eldorado Park in May 2013, the JBF launched the Jonathan Butler Holiday Programme under the slogan: "Purpose Kills Addiction".
"The Gauteng Department of Social Development approached the JBF to provide a solution through the arts after our successful launch of the JBF in partnership with the premier's office in September 2013," said Freddy Arendse, the CEO of the JBF.
The main purpose of this programme, which runs for four days, alternating between four different communities that are affected by substance abuse, is to keep children off the street and drug-associated crimes and help them focus on a healthy and positive future.
"Over these four days the facilitators present four modules in music, drama, visual arts and dance," said Arendse.
On the last day of the programme the children showcase what they have learnt in the community hall.
The programme takes in 500 children between the ages of 10 to 16 from local primary schools. The programme also benefits the community by creating work opportunities for local people who get paid a stipend for their contribution to the programme.
"The bulk of the initial funding for the launch of the JBF was provided by the National Lotteries Distribution Trust Fund and partly by the Gauteng Premier's office. The Lotto also contributed to our other arts development programmes. The duplication of the holiday programme was specifically funded by the Gauteng Department Social Development for 2014."
The next holiday programme will take place in Eersterust, Pretoria, during the December school holidays and then during the next year's March/April school holidays at Westbury, Johannesburg.
The department's Director of Substance Abuse Prevention, Tebello Mkhonto, said the department decided to sponsor the programme with the aim of preventing substance abuse in communities.
"The Gauteng Provincial Government decided to sponsor the programme because of its strong focus on substance abuse and giving children hope for the future. It also equips the kids with different skills," she said.