Written by Samona Naidu, Maselaelo Seshotli & Ursula Graaff
Millions of South Africans are now able to put food on the table and lead better lives, thanks to government's social assistance programme.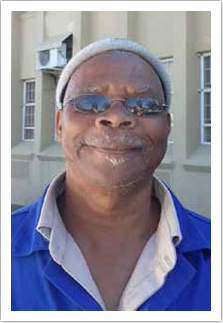 Rolled out in 1994 through the Department of Social Development, the programme was established to help tackle poverty.
Today more than 20 million South Africans receive assistance in the form of social grants, which range from old age grants, disability grants and child support grants.
Vuk'uzenzele spoke to families whose lives have been changed by the social assistance programme.
Conquering my disability
For Vinesh Sewpersad who lives in Cornubia in KwaZulu-Natal the disability grant he receives has not only enabled him to put food on the table but also helped restore his dignity.
Born with dwarfism, a genetic or medical condition that results in short stature, Sewpersad struggled for many years to find employment.
He now lives with his wife Lagni in government's new integrated Cornubia Housing Development launched by President Jacob Zuma recently and is not only a social grant recipient, but a proud first-time homeowner.
"Government has really helped change my life; first through my disability grant and now by giving my family a home. I feel very lucky and very proud," he said.
Sewpersad first received assistance from government 20 years ago, when he applied for a disability grant. Today he receives a monthly grant of R1 350, which he uses to pay for electricity, buy groceries, pay for transport and medication.
"I cannot even think about how life would be for my wife and I without this steady income," he said.
Even though he receives a grant, it is sometimes not enough to cover monthly expenses.
"To make ends meet Lagni does her best to find jobs here and there but it is tough to find a permanent job."
Sewpersad said he is thankful to government for giving him and fellow South Africans the chance to lead better lives, adding that every bit of help made a difference.
Fostering a future for her family
Tshidi Ndula is unlike any 28-year-old you would meet. She is a strong, loving woman who has dedicated her life to taking care of her four younger siblings after the loss of her parents.
She became the head of her household many years. and Ndula, who lives in the Mavhina village in Vhembe, Limpopo, put her dreams on hold to take care of her younger siblings Embrose, 21, Belen 17, Winterose, 14 and Rikhotso, 10.
With no income and unable to work as well as take care of her siblings, Ndula applied for a foster care grant at the Department of Social Development.
Today she is the foster care parent to her family, receiving R830 each for Embrose, Belen and a child support grant of R310 for Rikhotso.
"The grants have allowed us to stay together as a family and we are able to buy food, clothes and live a comfortable life."
Ndula said she is also able to save a portion of the grants to make sure that she can send her brothers and sisters to university.
"For now our focus is on getting Embrose through university. He is a first-year student at the Tshwane University of Technology," she added.
"Government has really helped me take care of my family and for that I am so grateful," said Ndula.
Investing in a better tomorrow
Government assistance is helping Charles Lewis from Colville in Kimberley save and invest in a better future for his family.
The 60-year-old, who receives an old age grant of R1 350 a month, said he was trying to use the money wisely.
The grant helps pay for his family's necessities, like medical care and his car insurance but Lewis has gone a step further by also investing in a funeral policy that would benefit his wife and children in the future.
Lewis has four children, two are over the age of 21 and are able to take care of themselves and the younger children are aged 18 and 7.
"I try to use the money very wisely, and even sometimes have a little left over that I use to buy the kids whatever they need." Despite the grant application process being quite rigorous, Lewis says he is grateful for the help he receives.
For more information on social grants contact the South African Social Security Agency (SASSA) on  086 60 10 11 or 012 400 2322.