Minister of Police Nkosinathi Nhleko has been working hard to ensure that South Africans feel safe.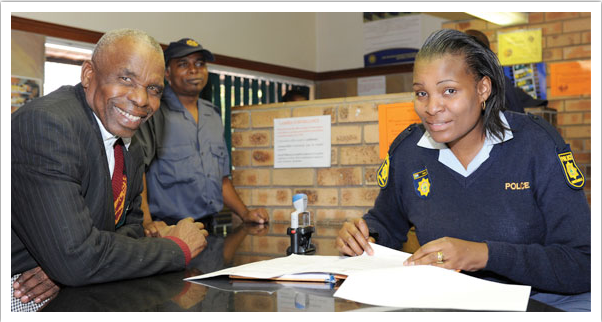 Minister Nhleko recently officially opened a R68 million state-ofthe- art police station, Tembisa South Police Station, in Ekurhuleni, Gauteng, to give the fight against crime a boost.
He urged the community to work with the police to tackle crime.
"We all need to play a role in the fight against crime to ensure that our communities are safe and protected," the Minister stressed.
He appealed to community members to report criminal activities and those involved in such acts.
"Criminals are in our communities and they must be exposed."
Minister Nhleko encouraged the local residents to establish Community Policing Forums in their areas, saying such structures were important in the fight against crime.
Interaction
Minister Nhleko's focus is also on changing the negative image that the public has of South African Police Service (SAPS).
This will be done through continuous interaction between the SAPS and communities around the country.
"You can only improve the image of the police if members of the community who are recipients of the service of the police are absolutely clear about them knowing the police service much better," the Minister said.
Another aspect of improving interaction between the public and the police will be the launch of a front line service delivery programme.
"As a member of the community you should be treated with respect and dignity and also a service must be rendered.
"The question of being diligent on the side of the police is also going to be a focal point. We will run this as a project on how we can improve the image of the police," he said.
Another top priority for Minister Nhleko is working on a recruitment strategy to attract young people, who have integrity, to SAPS.
"We have started rolling out a community based recruitment strategy. We are also saying to members of the community at a local level make an input to who should join the SAPS family," the Minister said.
Recently members of the Hawks and Crime Intelligence arrested 23 SAPS officials from the Free State for charges related to defeating the ends of justice, theft, corruption, and money laundering.
"We will continue to deal with this [corruption]. This is a negative element and the key thing is how do we deal with it. The community recruitment is part of mitigating the process," he added.
With the festive season upon us, Minister Nhleko said there needed to be better planning and coordination when combating violent crimes.
To deal with the rise in robberies that usually occurs over the holidays, the Minister intelligence- driven would be the focus of police.
Police intelligence would be beefed up to combat violent crime.