Although the National Rural Youth Services Corps (Narysec) participants' contracts expired at the end of August 2014, Samukelisiwe Khumalo, 28, continues to serve her local community.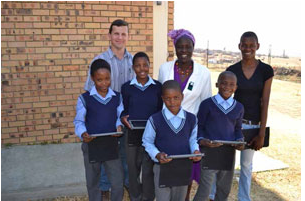 Khumalo was part of a group of young people who went through the Department of Rural Development and Land Reform's (DRDLR) Narysec programme for four years, where they were equipped with skills.
As part of the DRDLR's iSchool Africa iPad Learning Programme, a junior facilitator development programme was introduced based on the Comprehensive Rural Development Programme model.
The main goal of this initiative is to develop a cadre of local rural youth who will go on to champion the department's iSchool Africa iPad Learning Programme and ensure long-term sustainability. A key focus of the programme is capacity building and skills transfer.
Khumalo, who is from Siyazenzela Township, Mpumalanga is a junior facilitator and helps teachers and pupils at the local Vukuzenzele Combined School.
The facilitator works with teachers in the classroom, ensuring on-going professional development and skills transfer.
Everyday Khumalo arrives at school every morning at 8am. She goes to the staff room first and checks on the iPads to see if any of them need to be charged. After that, she checks the schedule to see which educator will need the gadgets for the I-school lessons.
"I help the educator to set up before the lessons start and I also help with starting and executing projects in the classrooms," said Khumalo.
The principal of the school, TE Mudau, was full of praise for Humalog's dedication and commitment to the school.
"We wish there was a way to retain her in the Narysec programme, especially since the stipend was her only source of income," said Mudau.
The school has a total of 1 357 learners and each one of them is exposed to this unconventional method of learning using iPads.
Mudau's school received a donation of 50 computers from a local mining company.
*Zithini Dlamini works at the Department of Rural Development in Mpumalanga.