Union Buildings

Tourism could be just the ticket the South African economy needs to take off.
In 2018, tourism contributed 1.5 million jobs and injected R425.8 billion into the econ-omy. This represents 8.6 percent of all economic activity in South Africa.
In 2018, Statistics South Africa said one in 22 South Africans was employed in some way by the tourism industry. This insight highlights how crucial tourism is to our economy and why each and every citizen should become a tourism ambassador, committed to keeping our beautiful country clean, safe and welcoming.
What excites me about the tourism sector is its potential for growth because tourism in South Africa is far from reaching its full potential. It is my hope that the country doubles its tourist arrival numbers to 21 million by 2030.
To help make this possible, government will be cutting back on a lot of the red tape that may make tourists think twice about visiting our shores. A world-class e-visa system will be introduced and where possible, visas will be waived.
Recently, seven more countries – Qatar, the United Arab Emirates, New Zealand, Saudi Arabia, Cuba, Ghana and Sao Tome and Principe – received visa-free status, which should have a substantial economic impact on the tourism sector. In 2017, when visas for Angolans travelling to South Africa were waived, there was an immediate visitor growth of 54 percent.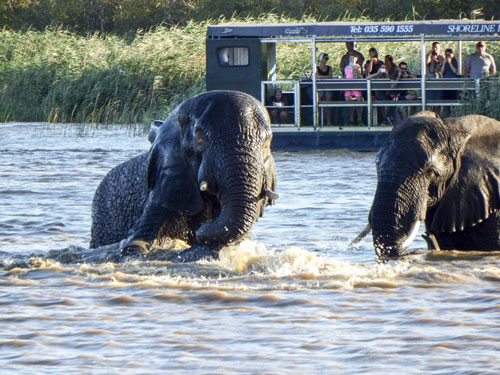 This increase in visitors will require more staff, including tour guides, cleaners, drivers, chefs, kitchen staff and office workers which will equate to employment opportunities for skilled people and those with relatively low skills.
Apart from direct employment, the tourism sector has the potential to positively impact the economy through its vast value chain, which incorporates agriculture, manufacturing, services, creative and cultural industries.
This ripple effect means that tourism in all corners of South Africa needs to become everyone's business.
If tourists – both international and local – do not feel safe and welcome in the place they are visiting, they will not return. Nor will they recommend the destination to their friends and families. In fact, they will certainly give negative reviews of their experience in our country. The result will be lost visitors and lost revenue for South Africa.
In August, government launched the National Tourism Safety Awareness Campaign in response to incidents of violence directed at tourists. It involves the recruitment, training and deployment of youth to assist with the safety of tourists at key tourism sites.
However, it is the people of South Africa who have the most power to ensure crime and unsavoury behaviour does not happen and that tourists are guaranteed the best possible hospitality standards.
Each person can do their bit – extend a warm smile or helping hand to show that South Africa is tourist-friendly, look after the environment by keeping it clean and reporting any poaching activities and, above all, help keep tourists safe by remaining vigilant and speaking out if you see or suspect wrongdoing.
The rewards will be great for South Africa and consequently, for all citizens.
Our country has a strong entrepreneurial spirit and tourism offers exciting opportunities for self-starters, especially those who offer services that complement what already exists in the industry. A good idea and an effective business plan can quite easily become a working business – without much capital investment – because tourism is all about people rather than commodities.
Township and rural entrepreneurs in particular can benefit from the global trend to-wards authentic or heritage tourism. Many tourists want to immerse themselves into the culture of the place they are visiting – they want to mingle with the locals and experience their foods, traditions and languages.
Heritage tourism a fast-growing niche worldwide and gives South Africans a chance to share with pride their history, culture and traditions.
Given how entwined heritage and tourism are, it is wonderful that both Tourism Month and Heritage Month are celebrated in September.
This allows us to reflect on who we are, where we come from and to take pride in the fact that people from all over the world are willing to pay for the privilege of experiencing our fascinating heritage and sampling our amazing diversity.
Isn't it time we realise and celebrate just how much we have to be proud of?