Written by: Allison Cooper
Xolile Zondi (33) and Nolwazi Zuma (34) launched their company Kwasukasukela in 2016 after identifying a gap in the market for children's books written in South Africa's indigenous languages.
"After we had our kids in 2013, we were looking for literature to read to them. We wanted to start teaching them isiZulu from the beginning and wanted to use reading materials that could support them while learning their mother tongue," Zondi explained.
Kwasukasukela is a non-profit organisation (NPO) that strives to influence a culture of reading within the black African community. "We want to ensure that there is a great supply of children's books written in South Africa's indigenous languages and we want to be part of the greater conversation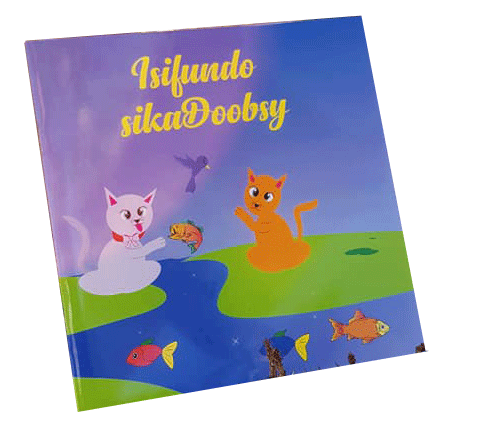 taking place in the education sector, of implementing a multilingual education system in South Africa," said Zondi.
The NPO creates, prints and distributes children's books written in indigenous languages. Its first book, Isifundo SikaDoobsy, is written in isiZulu and has already been printed.
"We will be releasing and launching two more books in September. We decided to write in isiZulu first, as we are both Zulu, but we want to create books in Sepedi, Sotho, isiXhosa and Setswana in the very near future," said Zondi, who grew up in a home where reading was encouraged.
Both her parents are avid readers, which instilled a love of reading in Zondi and her siblings. "Reading opens up new worlds. It lets the reader discover new places and people and different ways of living, without ever leaving their home. Reading is also a great way of expanding one's language and vocabulary. Nolwazi and I are really big readers and reading is a habit we want to instil in our children," she said.
Both women believe that it's important for Africans to read in their mother tongues because languages are linked to cultures. "If we lose our languages, we lose our cultures. Then we won't have anything to pass on to our children," said Zondi.
A lack of reading materials in South African indigenous languages, both for leisure and education, put children at a great disadvantage when it comes to their future learning capabilities.
Zondi explained that knowing their culture and heritage has enabled both of them to know who they are as individuals and to be comfortable with themselves as women, wives and mothers.
Isifundo SikaDoobsy
The book Isifundo SikaDoobsy is about a kitten that does not listen to her Mom and gets into trouble because of this. She then learns a hard lesson from not listening to her elders.
Kwasukasukela commissioned Lonathemba Luvuno to write the book and Sihle Modipa to do the graphics. "They are both young and talented," said Zondi.
In September, which is Heritage Month, Kwasukasukela will launch another story book and a children's Bible. "To us, Heritage Month means being able to celebrate our different cultures and ensure that they do not disappear," said Zondi.
"If we lose our languages, we lose our cultures."