Budget 2015
KwaZulu-Natal MEC for Cooperative Governance and Traditional Affairs, Nomusa Dube-Ncube, has welcomed the increased infrastructure budget allocations for municipalities, a significant share of which will go to KwaZulu-Natal.
"We have long called for increased allocations for basic services in our local municipalities, which despite major advancements, continue to experience infrastructure backlogs," said MEC Dube-Ncube.
Tabling this year's Budget recently, Finance Minister Nhlanhla Nene announced that allocations for water, sanitation and electricity in rural municipalities had been increased substantially.
He said that R4,3 billion would be spent over the next three years to build capacity and strengthen systems for financial management and infrastructure delivery.
Review of infrastructure grants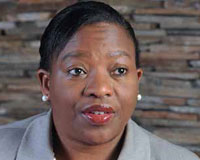 MEC Dube-Ncube said she was also excited about the planned review of local government infrastructure grants, which would lead to the consolidation of this crucial funding for development in the previously disadvantaged parts of KwaZulu-Natal.
The review of local government infrastructure grants would focus on the maintenance of infrastructure.
"Repairs and maintenance of municipal infrastructure remains one of our key priorities as we urge municipalities to go back to basics as part of the Back to Basics programme, which we have just launched in the province," said MEC Dube-Ncube.
Health budget welcomed
Meanwhile, the South African Medical Association Trade Union (SAMATU) welcomed the budget increase in health and education spending, saying both sectors were essential for the creation of a functioning health care system in South Africa.
The union's president, Dr Phophi Ramathuba, said she hoped that the increase in spending would result in a great improvement on the quality of health care at medical facilities.
"Ordinary people are still complaining about shortages of medicine, medical equipment and health care professionals. We therefore call upon the Department of Health and National Treasury to find solutions," said Dr Ramathuba.
The South African Medical Association Trade Union also welcomed the R1,5 billion that has been taken from provinces and allocated to the National Institute for Communicable Diseases, and the final commitment on the release of the White Paper on National Health Insurance.