Written by Small Business Connect
True to its name, Lepharo – meaning foundation of stones of knowledge – has laid the basis for about 40 small businesses in the engineering and manufacturing sector in Ekurhuleni to thrive.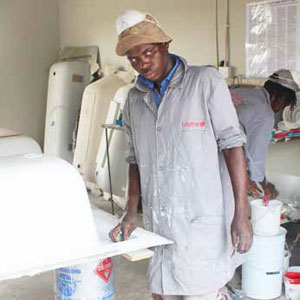 Incubation manager Zenzo Nkomo explains how the incubator works and how business owners can benefit from its services.
What is the name of your incubator?
The Small Enterprise Development Agency (Seda) Ekurhuleni Base metals, trading as Lepharo.
How would you describe your focus?
The identification and training of entrepreneurs and to create new businesses in the engineering and manufacturing sectors. These businesses are developed and supported until they are economically viable and no longer need Lepharo's assistance.
Where are you based and from which areas do you recruit new incubatees?
We are based in Springs, Gauteng, and recruit from the Ekurhuleni area.
Which businesses are best suited to join?
Any engineering or manufacturing small business in need of business support and skills development can apply.
How does one apply?
Business owners can apply via Lepharo's strategist partners – the Small Enterprise Development Agency, Impala Platinum, Exxaro and Ekurhuleni municipality, via the website or its office.
How long do businesses stay in your programmes?
Incubatees stay in the programme for a maximum of three years.
What are the two key elements of your support that sets you apart from other incubators?
Lepharo's focus on industrial regulatory compliance and procurement support sets its services apart from other incubators.
How long have you been going for?
We officially launched in 2011.
How many businesses have been incubated with your support?
Currently we have 40 handpicked businesses on the programme and our first five businesses will graduate when they complete the programme this year.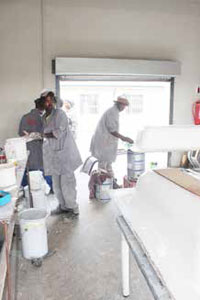 What are your fees?
We do not charge any fees.
What commitments do incubatees make before they enter your programme? And what commitment do you make to them?
Incubatees must commit to engagement meetings, progress reports as well as to successfully completing the incubation programme.
What are the average sales of your incubatees over a year in your programme? After two years? After three years?
This depends on the nature of the business.
What is the best thing you heard someone say about your incubator?
The best thing we have heard is that we mean business.
And the worst?
Incubatees say that the incubator is too strict.
What was your biggest success thus far?
We have a 99 per cent success rate for funding machinery that our incubatees who are on the programme require.
And what was your biggest failure thus far?
The failure to expand our premises in time and sync with the growing demand for our services.
Why are you involved in supporting new businesses?
It's what we do best.
What is your biggest wish for improving the support to entrepreneurs?
A formalised link between our retainer procurement support (from government and the corporate sector) and the development of our incubation programme.
For a comprehensive list of incubators, go to www.lepharo.co.za