Written by *Lorato Sehularo
For a long time, the people of Schmidtsdrif, which falls under the Siyancuma Local Municipality in the Northern Cape, relied on open fires for cooking and candles for light.
This was due to severe electricity challenges in the area.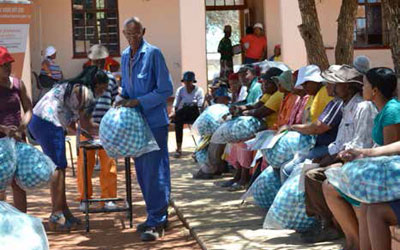 However, the Department of Rural Development and Land Reform has come on board to make the lives of the people in the community easier. The department donated energy renewable products to about 80 households in the village – as part of the Comprehensive Rural Development Programme.
The community received geysers with a capacity of 150 litres and wonder bags. A wonder bag is equipment used for cooking and cooling and has a guarantee of five years.
Maggie Noko from Schmidtsdrif says the donations will go a long way in helping her family.
"I am very excited and grateful for these energy products awarded to us today. I am also very fascinated by this bag that one can use to reduce the cost of electricity."
The department has set aside R2 703 186.00 in the renewable energy project and it will be rolled out in Pniel and Sydney on Vaal. Eighty-nine households have been targeted for the next round of donations.
*Lorato Sehularo works the Department of Rural Development and Land Reform.