Written by Amukelani Chauke and SAnews
Special tribute
The late Minister of Public Service and Administration (DPSA) Collins Chabane was a thinker and a driven servant who strived to make those around him become creative, solution-driven public servants.
Members of the public, different sectors of society, and The Presidency all agree that he was a humble, well-rounded person who had time to listen to the views of others.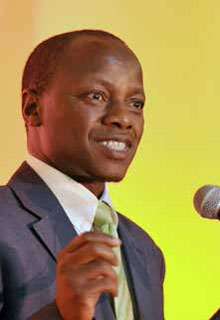 The Minister, who was born on 15 April 1960, in the village of Xikundu in Malamulele, Limpopo (then known as the Northern Transvaal), and his two protectors – Sergeants Lawrence Lentsoane and Lesiba Sekele – died on the N1 freeway between Polokwane and Pretoria when their car crashed into a truck that was reportedly making an illegal U-turn.
He would have celebrated his 55th birthday this month.
While the nation is still in shock at the Minister's untimely death, tributes have poured in from all sectors of the society with many describing him as a gentle giant with humility who always shunned his VIP status.
A Grounded Leader
Author and commentator Busani Ngcaweni, who is also a Deputy Director-General in the private office of the Deputy President, wrote in the Sowetan newspaper: "He [Minister Chabane] understood the concept of leading from the front, always seeking new, innovative ways of serving the public better and faster – and was always humble that he is known to have refused to have a junior officer to carry his bag".
The Minister's humble nature also took those that worked with him by surprise on several occasions.
The Government Communication and Information System's Deputy Director-General for Content Processing and Dissemination Harold Maloka, once the Minister's media officer in The Presidency, wrote in the Sunday Times how a visit to the bank in February 2010 showed him a side of Minister Chabane that he did not know.
A lady in her 60s had spotted the Minister at the Savannah Mall in Polokwane. She approached him and got on her knees calling him "Muchaviseki" – a Xitsonga word that means "the respected one".
"In response and acknowledgement of this human gesture, he knelt as well, in his formal ministerial suit, to return her greeting.
"It was at this very point that I was struck completely afresh by his humility, an amazing sense of mutual respect in an exchange of pleasantries between these two strangers," recalled Maloka.
The Minister had a strong background as a political activist and a musician with a clear record in positions of leadership.
His innovative qualities are his legacy, and he was always at the forefront of starting new projects during his time in the public service, and implementing them effectively.
In 1997, Minister Chabane was appointed as a member of the executive council (MEC) in the Premier's office in Limpopo.
After his appointment as the MEC for Public Works and leader of government business in the Limpopo Legislature the following year, he established the province's Roads Agency – the first institution of its kind in South Africa.
At the time, Minister Chabane also led the process of training unemployed people under the Gondolashu Construction Programme, which paved way for the successful Expanded Public Works Programme (EPWP), which today skills and employs millions of South Africans in rural and township communities. In 2005, he was appointed as MEC for Economic Development, Environment and Tourism in Limpopo, where he pioneered the establishment of the annual Marula Cultural Festival, which is now celebrated every year.
Music, sport and culture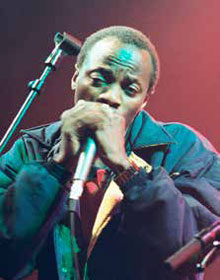 Minister Chabane was involved in music and poetry. It was while he was on Robben Island, that he learnt music theory and how to play the harmonica. He became an accomplished musician, and he, together with his best mentor, Besil Makombe started establishing the mbira group The Movement.
This band released five albums: "Seke Vs Xikundu" and "Xai-Xai", "Duma", "Mbira Instrumental" and "The Best of Movement". He won several awards, amongst others, the SAMRO and Special Music Awards from the SABC in 2010 and 2012 respectively.
Chabane was a keen golfer and his involvement in this sport benefitted most of the disadvantaged African golfers who played with him.
Charity
He founded the Xakani Foundation in 2009. The foundation has been organising two golf days every year since 2010 to raise funds for the following charities:
• The Peace of Educational Mind
• The South African Institute for Depression and Anxiety
• The Nthabiseng Special School – the only school in Phalaborwa for children with disabilities and special needs
• The Evangelical Presbyterian Church (Swiss Mission in South Africa).
The foundation also funds an annual visit to the coast for 20 underprivileged children.
An honourable leader
With his record of starting new projects and implementing them successfully, Minister Chabane was appointed as Minister of Performance, Monitoring and Evaluation, in 2009, a new Ministry in the President's office, responsible for tracking and improving the quality of service delivery at all spheres of government.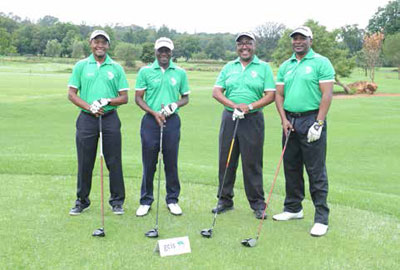 The Minister became the pride of his village and the rest of Limpopo, and in the same year tribal authorities presented him with a leopard skin during a traditional ceremony at Xikundu Village in Limpopo.
His new department was the centre of attraction, and at the time, the Sunday Times called him a "Hero on the rise".
The Minister led the department from the ground into a fully-fledged department that now plays an important role of setting service standards for about 155 provincial and national government departments.
His department was also responsible for the Presidential Hotline, for the public to call about service delivery queries or report fraud and corruption in the public service.
When South Africa celebrated 20 Years of Freedom last year, the Minister headed the process that led to the release of the 20 Year Review document.
He was also responsible for the Government Communication and Information System, a role he stayed in until last years' elections.
On May 25 Minister Chabane was appointed to head the DPSA.
The President also created Inter-Ministerial Committees (IMCs) to help government prioritise areas where a coordinated approach could be taken to deliver on crucial services.
The Minister was appointed as the head of IMC on State Funerals, through which he successfully led the team that organised the funeral of the late former President Nelson Mandela.
The Minister died at a time when public service wage negotiations were still on-going.
Delivering the eulogy at Minister Chabane's funeral, President Jacob Zuma said the Minister was the ideal candidate to lead DPSA because of his passion for Batho Pele principles, aimed at putting people first to improve their lives in a caring, effective way.
"After carefully searching among us, Comrade Collins emerged as the right candidate for this task.
"He had good plans about taking the department and the public service forward, and we all have a responsibility to take his vision forward," said President Zuma.
The President urged public servants to take forward Minister Chabane's vision.
"We urge our frontline service staff that serve people directly to take forward Minister Chabane's vision and serve our people with dignity, respect, courtesy, efficiency and speed… Let us put our people first in memory of Minister Chabane."
A dedicated family man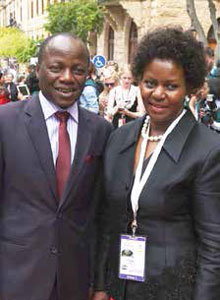 Minister Chabane married his wife Mavis Nkensani Chabane in 1994 and they have two children together.
Minister Collins Chabane's son Matimba Chabane paid a moving tribute to his father and said his father had died in the line of duty. "It is all a matter of time and we should accept that. In the meantime we owe it to him to live like how he lived.
"He was a very structured man. My father didn't have drama, he was always laughing," he added.
The Minister's daughter Tsakani Chabane sang for her father one last time at his funeral – something he always loved.
While the Minister's children paid tribute to their beloved dad, President Zuma also used the opportunity to bid goodbye to someone he considered a son.
"Farewell freedom fighter, combatant, commissar, MK soldier, former political prisoner, a dedicated servant of the people, and accomplished musician, a husband, a father, and to me personally, a son," said the President.
Minister Chabane is survived by his wife, Mavis, two children Matimba and Tsakani, his Mother Elizabeth, 10 siblings, and 11 siblings from his father's second wife Johanna.