Written by More Matshediso
A proud Sindiswa Khumalo of Kwathema Crèche walked away with the Best Early Childhood Development (ECD) Practitioner Award. On receiving her award, an elated Khumalo said teaching is more than just a job for her, it's her passion.
Khumalo spoke to Vuk'uzenzele after receiving her award in Johannesburg, during the South African Early Childhood Development Awards (SA ECD), held at provincial level recently.
Khumalo, who has been in the ECD sector for about 30 years, said she loves her job and is very passionate about the young impressionable minds under her care.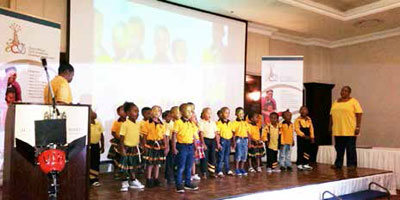 She said she had been offered jobs elsewhere but her love for children is the reason why she cannot see herself leaving her job.
"I wondered what would happen to the children if I left. What if I would be replaced by someone who does not love them as much as I do? I have children who attended my crèche back in the day who and are now doctors and decent members of society. Some of them even give back to the same crèche that they attended," she added.
Khumalo said she takes ECD very seriously and for her it is more than a job, it is her ministry.
"When I started in the industry I only had my matric. I then decided to study a threeyear Diploma in Educare through the then Johannesburg College of Education (now Wits University). It was tough in the beginning, we were not getting any support as practitioners, but now things are better," she said.
Khumalo said she was happy when the Department of Education started giving practitioners a stipend of R1 000 a few years ago and now it has increased to over R5 000.
The awards were hosted by the National Development Agency (NDA) in partnership with the Departments of Social Development and Basic Education, SABC Education, United Nations Children's Fund (UNICEF) and the South African Congress for ECD.
The NDA said the Best ECD Centre and Best ECD Practitioner of the Year categories were awarded at provincial level, while categories like Best ECD Publication of the Year, Best Trainer of the Year, Best Training and Intervention of the Year and Best Programme Supporting Babies and Young Children with Disabilities of the Year (a new category introduced this year) were awarded at national level.
Meanwhile, Thusanong Day Care Centre, headed by principal Lerato Kekana in Majaneng in Tshwane, won the Best ECD Centre category. Kekana said she was humbled by the award.
Kekana told Vuk'uzenzele that the centre was established in 1989 and has faced a lot of challenges from the start. She said she works with eight teachers/practitioners who care for 120 learners and two gardeners.
"The number of children might increase. Since 1989 until now, we have developed more than 4 850 learners," she said.
Kekana added that there was a lot of improvement at the centre as it had received a number of donations from the private sector and the NDA.
"I did a short course in fundraising, so I know how to approach prospective funders," she said.
Gauteng MEC for Social Development, Faith Mazibuko, commended the winners for their dedication and hard work and encouraged those who attended the event to look up to the winners.
"Next time the judges must find it difficult to choose the winners. You must improve in everything that you are lacking. But today, all of you are winners," MEC Mazibuko said.
She urged ECD practitioners to prioritise children's health at their centres and ensure that they have valid health certificates.
"Remember you are dealing with lives… you do not want parents to sue you, alleging that you have fed their children poisonous or unhealthy food," said MEC Mazibuko.
She said her department would donate educational and fun toys to all the ECD centres that were represented at the awards.
She thanked the practitioners for evolving the crèches into early learning centres, saying children no longer eat and sleep the whole day but are taught and prepared for primary school.
SA ECD awards marked their 11th year in 2015, and recognise excellence innovation, best practice and participation in the ECD sector.
NDA provincial manager Mapule Phora said about 318 centres were nominated, encouraging more centres to participate in 2016.
"Some of the centres have grown from operating from inside the shacks into proper facilities over the years, some even used advanced technological resources," she said.
She urged those who attended the awards ceremony to go back to their communities motivated to win next year and encouraged others to participate.