The Premiers of the country's nine provinces and their provincial governments have major plans to improve the lives of the people who live there. Details of these plans were outlined recently when the Premiers delivered their State of the Province Addresses.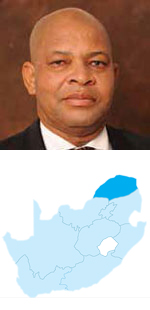 Premier Stanley Mathabatha
Limpopo attracts international investment
Written by Nthambeleni Gabara
Limpopo has become a destination of choice for international investors, says Limpopo Premier Stanley Mathabatha. "During our trade and investment mission to the People's Republic of China in October 2014, we signed memorandum of agreement with big investors.
"The first memorandum of agreement was signed with Hong Kong Mining Exchange Company (Hoi Mor) for the establishment of South Africa Energy Meturlligical Base Project," he said during his State of the Province Address (SOPA). The project, which has an investment value estimated at R38.8 billion, will be based in the Musina Special Economic Zone, and will create 19 000 direct jobs over a period of three years.
The South Africa's Women Investment Holdings has also entered into a joint venture agreement with Jidong Development Group and China Africa Development Fund for a R1.65 billion investment in cement manufacturing in Thabazimbi.
The construction, which started in 2014, was due to be completed last month.
"I have no doubt that these investments will add value to our efforts of expanding the productive capacity of our economy," said Premier Mathabatha.
Investing in agriculture
"We opened Madzivhandila and Tompi Seleka Agricultural Colleges at the beginning of this year.
"The colleges are now fully functional and operational. They have a student enrolment of no less than 140," he said.
Premier Mathabatha said the curriculum content has been restructured and developed to produce agricultural economists, extension officers, pasture and soil scientists, agronomists and horticulturalists.
The curriculum is also integrated with other disciplines offered by the University of Limpopo and the University of Venda.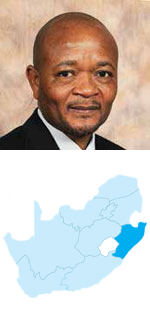 Premier Senzo Mchunu
Curbing maternal deaths high on KZN's priorities
Written by Pricilla Khumalo
The reduction of maternal, neonatal and child mortality will be the focus for the KwaZulu-Natal Provincial Government over the next five years.Delivering the State of the Province Address (SOPA), Premier Senzo Mchunu said despite persistent poverty, the province has seen a significant decline in the number of children underweight for the under-five age group from 44 per 1 000 in 2010 to currently less than 14 per 1 000.
The province has also seen a decline in the under-one year mortality rate from 10.8 per cent in 2010 to a current 7.3 per cent.
"We have seen a maternal mortality in facility ratio of 138 per 1 000 births, down from 195/100 000 in 2010. Life expectancy for males is up from 49 to 54 and for females from 50 to 59," Premier Mchunu said.
The province will speed up prevention of mother-to-child transmission of HIV by reducing vertical transmission. It will speed up the implementation of the Campaign on Accelerated Reduction of Maternal and Child Mortality in Africa.
The province will also speed up the implementation of Phila Mntwana campaign at community level to increase the reach for children under five years and ramp up TB screening and treatment in children in this age group.
"We aim to reduce the number new HIV infections by 50 per cent by 2016 and reduce the impact of HIV and Aids by expanding access to an appropriate package of treatment care and support to 80 per cent of all people diagnosed with HIV," Premier Mchunu said.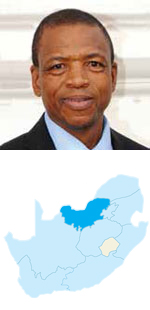 Premier Supra Mahumapelo
NW to address water challenges
Written by Neo Semono
The North West Provincial government as set aside more than R100 billion to improve infrastructure over the MTEF.
Speaking during his State of the Province Address, Premier Supra Mahumapelo said the Infrastructure Budget includes all the provincial departments and all 23 municipalities.
"This budget will be used to fund construction of roads, water and sanitation, schools, health infrastructure, houses, agriculture, arts and tourism infrastructure across all 383 wards in the Province," said Premier Mahumapelo.
The Department of Water and Sanitation has made available R1.9 billion to deal with water and sanitation infrastructure challenges in the province.
"Projects are at different stages ranging from planning to implementation while some phases have been completed." This excludes commitments of R705 million and R312 million for provincial roads maintenance and construction funded through Presidential Infrastructure Coordinating Committee (PICC) under Strategic Infrastructure Projects Programme 4 (SIP 4).
These projects are expected to address the challenges of water supply at various areas such as Madibeng, Bloemhof, Schweizer Reneke, Setlagole, Mafikeng.
The premier also said that the province is working hard to address the housing backlog. To date, 223 591 houses have been built since 1994, consisting government R13 billion.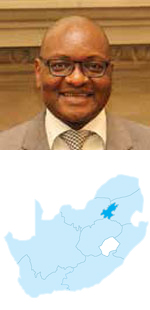 Premier David Makhura
Revitalising Gauteng's township economy
Written by Bathandwa Mbola
The Gauteng Provincial Government has set aside more than R160 million to improve and unlock the potential of the township economy.
Premier David Makhura made the announcement while delivering his State of the Province Address (SOPA) saying that the money would go a long way in addressing unemployment, poverty and inequality.
"We must work towards conditions where every rand generated from the township economy circulates within the township economy and benefits township residents," said Premier Makhura.
In addition, the three metros (Johannesburg, Tshwane and Ekurhuleni) have set aside R3 billion, R22 million and R150 million, respectively, to support the township economy and township entrepreneurs over a period of five years.
In Diepsloot, MEC Lebogang Maile announced that about 160 township entrepreneurs involved in light manufacturing and other productive activities will benefit from the R1.6 billion investment in the Riversands/ Diepsloot SMME Incubation Hub.
Seven new township hubs will be established in various townships in the province. The hubs will assist and support township businesses.
The new township hubs will be established in Ennerdale, Hammanskraal, Mabopane and Reiger Park.
Furthermore, the industrial parks in Katlehong, Orlando, Residentia, Khutsong and Ennerdale will be revitalised, MEC Maile said.
The provincial government has also, in the last three quarters, made some strides on employment opportunities.
Launched in December 2014, three months ahead of schedule, the Gauteng Provincial Government's initiative that aims to give hope, skills training and entrepreneurship skills to 500 000 young people of Gauteng, Tshepo 500 000, is already making a difference in the lives of youth.
As at the end of quarter three, work opportunities created through the National Youth Service, Zivuseni programme, Department of Cooperative Governance and Traditional Affairs funded sites and with partners such as the Independent Development Trust and various non-profit organisations tallied 165 516.
On projects implemented through government's infrastructure capital works, the province has registered phenomenal progress.
Over the next four years, the Gauteng Provincial Government's total investment in infrastructure development will be more than R32 billion, while Gauteng municipalities will spend R94 billion over the same period.
In the next five years, township enterprises will also get more business from government.
"We have now committed to set aside 30 per cent of public procurement budget for township enterprises over the next five years," said Premier Makhura.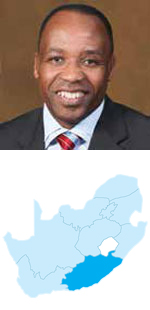 Premier Phumulo Masualle
Job creation high on Eastern Cape's agenda
Written by Edwin Tshivhidzo
Eastern Cape Premier Phumulo Masualle says the province will focus on creating jobs and sustainable livelihoods in 2015.
The province aims to create 129 597 job opportunities through the Expanded Public Works Programme (EPWP) and 37 000 through the Community Works Programme (CWP).
"We have to do this against an economic outlook characterised by an economy that records one of the highest unemployment rates in the country. We are rising to the task of creating sustainable jobs for our people," he said during the State of the Province Address.
The unemployment rate in the province currently stands at 30.8 per cent, while youth unemployment stands at 50 per cent.
Premier Masualle said 24 737 jobs against a target of 13 234 had been created through economic agencies such as the Eastern Cape Development Corporation (ECDC), East London Industrial Development Zone (ELIDZ) and the Coega Development Corporation (CDC).
The province is targeting 14 investments with the value of R2 237 billion in the two IDZs.
"As part of promoting the province as an investment destination of choice, we are developing an Investment Promotion Strategy aimed at creating an enabling environment for a vibrant economic growth in the province," said the Premier.
In the 2015/16 financial year, the ECDC is expected to create 7 000 jobs opportunities, Coega 8 797 and ELIDZ 5 500.
Premier Masualle said in the coming year, jobs would be created in manufacturing, logistics, alternative energy, agro processing and services.
"In an effort to further enhance job creation, we will support 280 small, medium and micro enterprises and 70 cooperatives," he said. This would ensure the active participation of previously disadvantaged sectors in the economy.
The province has created 35 222 work opportunities through the CWP and 155 235 through the EPWP, exceeding the planned target.
Approximately 64 per cent of the EPWP jobs benefited women, 39 per cent the youth and one per cent persons with disabilities. A total of 4 184 youths, out of a target of 3 678, have been trained through the Accelerated Professional and Trade Competency Development Programme and the National Rural Youth Service Corps.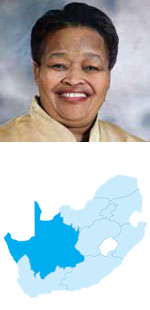 Premier Sylvia Lucas
Transforming the Northern Cape
Written by Ursula Graaff
Northern Cape Premier Sylvia Lucas's recent State of the Province Address focused on transforming the provincial economy and renewable energy initiatives.
About 18 000 people were employed in the province by the end of 2014, mainly in the agriculture and construction sectors.
Renewable energy initiatives
Premier Lucas stated that Eskom had connected 950 megawatts of renewable from Independent Power Producers to the grid. Eskom spent over R300 million on capital improvements in the Northern Cape, which include the new Schmidsdrift Substation and the Canal Substation near Vanderkloof.
The Premier said construction of the highvoltage lines critical for manganese mining in the Hotazel area would be completed in the first half of 2015.
The new 400 kilovolts line will provide power to the Kathu/Hotazel area.
Between April and December 2014, some 2 000 households were connected to the electricity grid and a further 1 058 houses were expected to be connected to the grid before March 2015.
Infrastructure development in the province over the next three years will include:
R170 million on road resealing, which includes the Loeriesfontein to Nieuwoudtville road; the Philipstown to Hanover Road and MR795 in Strydenburg.
R93 million on repairing flood damage in different areas including Petrusville, Prieska North, Neilersdrift to Kakamas and Blouputs.
R25 million on the maintenance of bridges in the Namaqua District.
R8 million to deal with potholes.
R20 million on road furniture (road signs and guardrails).
R205 million on routine and preventative maintenance throughout the province.
R100 million on the N14 in Postmasburg that stretches over 55 km. A total of 50 job opportunities have been created. To date the project is 90 per cent complete.
R60 million on the Hotazel to Tsineng road, in partnership with BHP Billiton mine. Phase 3 will start soon.
R240 million for the road linking Hondeklip Bay with the N7 near Garies. Phase 1 started in November 2013 and Phase 2 of the project will start during the 2015/16 financial year.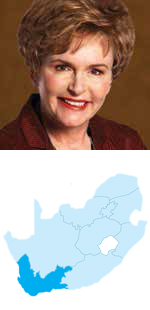 Premier Helen Zille
Techno boost for the Western Cape
Written by Albert Pule
Schools, libraries and health facilities across the Western Cape have been given a major technology boost, with access to improved broadband services.
This is thanks to a partnership between the government of the Western Cape, the State Information Technology Agency (SITA) and telecommunications services giant Neotel.
The partnership will result in over 300 WiFi hotspots covering most parts of the province.
Wireless networking – also known as WiFi - is a way of getting broadband internet without wires. It allows you to connect computers anywhere without installing extra phone lines or cables.
Speaking during the State of the Province Address, Premier Helen Zille announced that close to 2 000 government sites will receive broadband services which will in turn benefit the people of the province.
"I am therefore very pleased to announce that the Western Cape Government, the State Information Technology Agency (SITA) and Neotel signed a strategic agreement this morning to provide broadband services to approximately 2 000 government sites, including schools, libraries and health facilities over the next two to three years."
By May next year, all sites will be connected with minimum speeds of 10Mbps under this agreement and by August 2018, most sites will be connected by fibre optic cables with 90 per cent of sites enjoying 100Mbps speeds and 10 per cent enjoying 1Gbps speeds.
According to the Premier, the improved broadband services will assist government in creating opportunities for people in the province.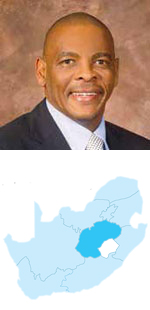 Premier Ace Magashule
Boost for Free State school infrastructure
Written by Albert Pule
The Free State Provincial Government will focus on upgrading various infrastructure projects across the province.
So far, the provincial government has completed the construction of three schools and three school hostels in different parts of the province.
"Infrastructure projects completed during the current financial year include three new schools, namely Letlotlo Naledi Primary in Bothaville, Nthutuzelo Primary in Bultfontein and Lister Skosana Primary in Parys.
"Three new school hostels have been completed in Phillipolis, Bainsvlei and Ventersburg.
The development of school hostels is a continuation of our commitment to gradually decrease our reliance on learner transport to ensure that learners have access to quality education," said Premier Magashule.
Two more schools have been constructed under the Accelerated Schools Infrastructure Delivery Initiative (ASIDI).
ASIDI is an initiative by the Department of Basic Education to eradicate backlogs in school infrastructure. It also aims to upgrade the standard of schools to meet the optimum functionality levels prescribed by the Norms and Standards for Schools Infrastructure and ensure that schools are safe with proper infrastructure.
"We have also completed the construction of two schools under the ASIDI programme - that is schools to be reconstructed that were built of prefabricated material."
The schools are PT Sanders in Trompsburg and Vredefort Primary in Vredefort. Other infrastructure projects include:
New schools in various districts in the province.
Various projects are underway at 66 schools in the Free State. These projects will add additional classes at 31 schools, 29 administration blocks, 12 new halls, 12 new kitchens and 12 media centres and laboratories.
Construction is in progress at 20 additional schools under the ASIDI programme.
Ten schools will also be upgraded to full service schools in an effort to cater for learners with special needs.
Four school hostels are under development. (Sediti Secondary and Boitumelong Special School – both in Thaba Nchu – Edenville Combined School in Edenville and Sebonakaliso Farm School in Harrismith.)
An additional 50 new Grade R classes will also be constructed.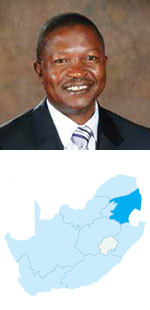 Premier David Mabuza
Mpumalanga focuses on infrastructure development
Written by Nosihle Shelembe and Ursula Graaff
Mpumalanga has set aside R2.065 billion for its infrastructure development programme for 2015/16.
"Our infrastructure development programme continues to prioritise socioeconomic infrastructure such as roads, hospitals and schools," Premier David Mabuza said during the State of the Province Address (SOPA).
As part of infrastructure development in the province, Mbombela has completed Phase One of the implementation of the Integrated Public Transport Network.
The construction of the infrastructure, which involves widening some parts of the Central Business District road network, is currently underway. The project is aimed at incorporating all modes of transport. Premier Mabuza said the Moloto Rail Corridor Development programme had also been approved.
"The Moloto Development Corridor will be a catalyst for stimulating economic growth and job creation that will benefit the province, especially Thembisile Hani and Dr JS Moroka Local Municipalities.
"It will attract private sector investment along the corridor, thereby increasing prospects for employment and local enterprise development," he said.
Mpumalanga International Fresh Produ ce Market Premier Mabuza said the process for the acquisition and registration of land for the Mpumalanga International Fresh Produce Market had been concluded.
"All the necessary statutory compliance matters such as the environmental impact assessments have been finalised."
The Mpumalanga International Fresh Produce Market will create the required infrastructure and logistics platform to help vegetable, fruit, citrus and meat production farmers and remove the current barriers to market.
Access to water
The provincial government, together with the Department of Water and Sanitation and Rand Water, have partnered to provide water to communities in Mpumalanga. Some R298 million was invested for Phase One to connect 24 villages, benefiting 15 000 households.
Phase 2, which costs R601 million, has started and will cover 69 villages, and benefit 23 340 households.
Boreholes will be drilled in all areas in need to provide reliable and constant water supply.
Where boreholes exist, but are nonfunctional, the Mpumalanga government will refurbish all these boreholes within the next three to five months to ensure that people have access to water.