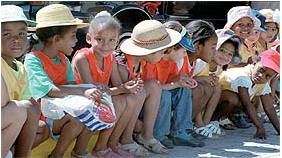 From 7 February this year, Statistics South Africa will collect information about people in different communities all over the country. This will be done through a com-munity survey.
A community survey is when information is collected like the number of people in a community, their ages, how many are women, men or children, the languages they speak, the income per household and the level of education.
Why is iy necessary?
The information will help government to plan better for the future. It will also show how much communities have developed and grown and whether some of government's goals have been reached.
The community survey will not involve all the people in South Africa, but only about 300 000 households.
A survey of all the people in the country is called a population census. Through a population census government finds out how many people live in the country, how fast the population is growing, what the average income of the people are, how old they are and so on.
Close the gap
In this survey, the 300 000 will be representative of the whole country. For example, half of them will be women; a quarter will be less than 19 years old.
In the past, a population census was held every five years, but now it only happens every 10 years. The community survey is held to close the gap between the last census, which was held in 2001, and the next one, which will be held in 2011.
Interviews
All the people whose households are in the enumerated areas, will be interviewed during the survey.
An 'enumeration area' is a term used in statistics meaning the smallest unit or piece of land into which the country is divided for the purpose of counting.
Officials of Statistics SA will collect information through person-to-person interviews using a questionnaire. All the information will be kept confidential.
How to recognise officials
You will recognise Statistics SA offcials by:
yellow over-shirts;
 
yellow shoulder bags;
 
blue caps showing the words 'Community Survey 2007';
 
stickers on cars showing the words 'Stats SA/Community Survey',
 
Stats SA identity cards.
Explanation of terms
Statistics: collecting facts, like those about people, weather, or business conditions and showing them as numbers that can be compared with other similar facts.
Enumeration: the process of counting members of a population to collect infor-mation about them.
For more information, call 1020