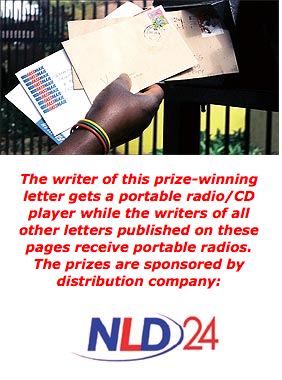 WINNING LETTER
Don't be foolish about life
Parents still regard sex as a taboo subject and so the circle of ignorance and hurt grows.
Our parents remember when we got our first tooth and our first day of school. But they shy away from our first sexual encounters. Because of this too many young people become lost. They don't know what to expect or how to say 'no'.
This cannot go on in this day and age when sex can mean a death sentence.
Parents, please talk to your children about sex. Don't fool yourselves.
Pretending these things don't happen, won't make them go away. Children, listen to your parents. Don't be foolish about life, love and your future.
- Rachel, Sebokeng, Gauteng
Albinism - a condition, not a curse
I am a person with albinism and the pain of being different because of my skin colour is horrible. You have to listen to what other people say about you, which hurts a lot. People with albinism are often isolated or discriminated against because other people do not understand the condition Although I have experienced a lot of pain in my life I have never given up on working harder. My motto for this year is 'if you have a dream, dream big' and my slogan for people with albinism is 'nothing about us without us.' I am a person with albinism and I'm proud to be one.
- Khetiwe Mbuyazi, Richards bay, KwaZulu-Natal
They're like everyone else
I am a girl of 17 years old and would like to say that people with albinism are normal human beings with a skin problem. They are like each and everyone of us and we should treat them like everyone else. We should not judge them or discriminate against them; they did not choose to have albinism. We should include them in our activities to show them we love them. I think people with albinism are fun to have around. Most of them have a great sense of humour. We should give them a chance to live their lives to the full and not ridicule them.
- Rebecca Tsokolibane, Ikageng, North West
Taxis must follow the rules
I think it is time for taxi drivers to do something about the way they drive. They are responsible for many horrific road accidents. Is life worth so little that people can drive recklessly and get away with it? Some taxi drivers are not even fit to ride a bicycle. I appeal to the entire taxi industry: please follow the road rules. The roads belong to all of us, not just the taxis. Transport Minister, Jeff Radebe, should do something about this problem. Taxi drivers need to be trained to become professional and responsible service providers.
- Papikie, Mogoto Village, Limpopo
Reply from the Department of Transport:
Government is developing a public transport system that is reliable, safe and comfortable. We must do this because 74% of South Africans cannot afford to buy cars and 65% use taxis to get to work. The Department of Transport is working hard to make sure taxi drivers receive advanced driving skills. The Taxi Recapitalisation project is part of government's road safety strategy. We welcome the Number 1 Taxi Driver Competition. We believe it will contribute greatly towards reducing road accidents. The Transport Training and Edu-cation Authority (TETA) also has many programmes to help taxi drivers. The programme includes training in professional driving, customer care, administration and general business skills.
Leader's of tomorrow
South African schools are heading for a crisis; a crisis of killing in some schools. I have had enough of the alarming and increasing number of learners killed in our school environment. Our guardians and parents send us to schools as learners hoping that our lives can be improved, hoping that the school is the safest place in our community and hoping that we can change our lives for the better. But how can our lives be improved if we are killing one another? As a learner I am very disappointed. Let us not see one another as enemies, but as friends; let us be leaders of tomorrow, not murderers.
- Tsolo Tauhadi, Matwabeng , Free State
The key to your future
As a teen I am very worried about teenagers who always give up on the good things. Why don't they rather give up on the bad things. Most teenagers in peer groups or gangs leave school because they tell each other school is a waste of time. But they are totally wrong. They should think again. Stop giving up on school! Education is the key to the future.
- Daluxolo Cofa, Goshen Village, Eastern Cape
Alcohol leads to unsafe sex
I would like to warn adults and young ones not to drink alcohol and think of having sex. When you drink alcohol you do not think about using a condom. This results in unsafe sex and HIV. It happened to me. If I was not drunk, I know I would have used a condom. Please try to stay alert and alive longer. Whether you are HIV negative or positive, keep on using a condom for your own future.
- Cwijimpi Jele, Umkomaas, KwaZulu-Natal
We must combat crime
Criminals don't belong in our communities; they belong in jails. But the jails should not be too soft on them. They deserve the hard way, because they have robbed, killed, raped and molested innocent people. South Africa is a beautiful country to live in, but if we don't do something to combat crime, it will become a miserable place to live in.
- Tepo Kopa, Marquard, Free State

Write to: Vuk'uzenzele, Private Bag X745, Pretoria, 0001,
or e-mail: vukuzenzele@gcis.gov.za.
If you don't want to have your real name published, you may use a different name,
but please include your real name and address to us.