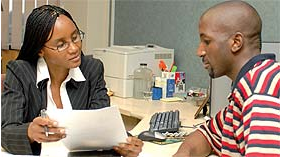 Those who know, will tell you that looking for a job is a job in itself.
Many applicants don't get the jobs they want because of small things like forgetting contact details on their CVs or not having a proper CV.
What is a CV?
CV is short for 'curriculum vitae', which are Latin words meaning 'course of life'. A CV is also sometimes called a 'resume'. It is a document that gives information about your education and your work experience.
It should be short and easy to read, but should contain all the important information that a future employer will need.
Application letter
When applying for a job, a covering letter or application letter must go with your CV. The letter should say that you wish to apply for the job as advertised and why you think you are the right person for the job.
Your CV should include:
Personal details, including contact details. Avoid un-necessary information like your religion and children's names.
 
Education and qualifications including the names of institutions and dates. Give it in reverse order starting with your highest qualification and working down to high school.
 
Work experience in reverse order, starting with your current job or last job if unemployed.
 
Skills, including language skills, computer skills and any other training or development that is relevant to the position.
 
Hobbies and interests like sports and other things you do like reading and painting, but keep it very short.
 
References - names, contact details and job titles of previous supervisors or people who know you. Your future employer may contact them to find out more about you.
 
You don't have to include your reasons for leaving each job, but be prepared to answer questions about it in your interview
 
You don't have to include current salary details.
Your CV must:
be typed in black ink using plain lettering, on white A4 size paper;
 
not be longer than three pages
 
short, clear and deals with the particular job;
 
have no grammatical errors and spelling mistakes. Ask someone with good knowledge of language to help you to check it.
- Ndivhuwo Khangale
To get the right job you have to convince the employer that you are the right person for the job
Tips for writing a good letter
    
Address the letter to the right person using the correct title and name. Avoid something general like 'To whom it may concern' or 'Dear Sir/Madam.'
 
Keep it short; no longer than half a page. Avoid difficult words and abbreviations.
 
Don't waste the first paragraph with a boring introduction. Tell the employer how you can make a difference in the company.
 
Get someone to check gram-mar and spelling
 
Request an interview and follow up, rather than sitting back waiting for a call.