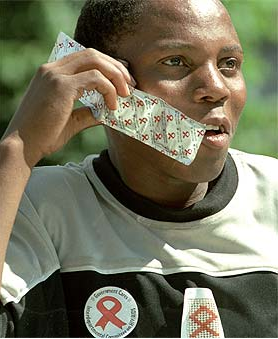 Government has come up with a major programme to reduce new cases of HIV and Aids infections, especially among young people.
Deputy President Phumzile Mlambo-Ngcuka released the broad principles of the National Strategic Plan on HIV and Aids for 2007-2011 on 1 December - World Aids Day - in Nelspruit, Mpumalanga. The plan will be finalised early this year in consultation with civil society.
Reduce infection
The new plan follows the country's first five-year plan for 2000-2005. The new plan has been developed so far by the Department of Health.
It aims to reduce the number of new infections, especially among young people between 15 and 24 years old. It also aims to reduce the rate of new HIV infections by half by 2011 and to ensure that the majority of people who are HIV-negative remain negative.
Practice safe sex
Different ways will be used to get the message across to as many people as possible. These include newspapers, magazines, pamphlets, billboards, radio and television.
People will be encouraged to practice safe sex and young people between 14 and 17 years will be encouraged not to have sex until they are older, more responsible and in stable relationships with one partner.
The plan will also focus on reducing the infection rate on sex workers, men who have sex with men, men working away from home, drug users and others.
Educating the public
The plan will make sure that people living with HIV and Aids are involved in the programmes aimed at educating the public about the disease at all government levels.
Through this plan, government will also address the lack of human respect that is sometimes shown to people living with HIV and Aids.show some respect!
People will be educated more about the disease to help them understand and respect those with HIV and Aids. They will also be taught how to treat people living with HIV and Aids.
Treatment includes antiretroviral medication for those who need it. It does not cure HIV, but can slow down the effects of the disease. It helps to protect the body against other diseases and helps people to live longer more productive lives.
Still no cure
Mlambo-Ngcuka reminded people that there is still no cure for HIV and Aids. She said that it was good to know that people can keep infection with the HIV virus from becoming full-blown Aids through responsible lifestyles, good nutrition, exercise and proper treatment.
- Ndivhuwo Khangale
More than 1,7 million people have used the voluntary counselling and testing services available at 4 172 clinics last year.
 
More than 380 million condoms are being dis-tributed a year.
 
Services to reduce the risk of mother-to-child transmission of HIV are available in all public hospitals and 86 per cent of clinics countrywide.
 
More than 480 000 have benefited from the Department of Health's nutritional support programme in the area of treatment, care and support.
 
TB is curable even when one is infected with HIV and Aids.
 
Free TB test and treatment is available at hospitals and clinics.
 
ARVs are now available at 273 hospitals and clinics across the country.
 
More than 213 282 people have been getting anti- retroviral treatment in the public sector alone.
  
Some important dates in the Health Awareness Calendar for 2007
January
Sun Smart Awareness Month
31 World Leprosy Day
February
Reproductive Health Month
4 World Cancer Day
12 –18 Pregnancy Awareness Week
March
Health and Nutrition Campaign
21 Human Rights Day
24 World TB Day
April
Health Awareness Month and National Donor Month
7 World Health Day
25 Africa Malaria Day
May
Anti Tobacco Campaign Month
31 No Tobacco Day
June
National Youth Month
1 Children's Day
16 Youth Day
19 – 26 Drug Awareness Week
July
Mental illness and Men's Health Month
11 World Population Day
August
National Women's Month
9 National Women's Day
31 - 5 September, Cancer Prevention Week
September
National Heart Awareness Month
October
Women's Health – Breast Cancer Awareness Month
November
Red Ribbon Month
5 National Children's Day
25 – 10 December – Activism on No Violence Against Women and Children
December
1 World Aids Day
3 Day of Disabled