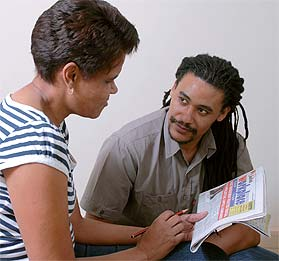 Are you one of the many young people who passed your matric or finished your studies at the end of last year? Then you will be among those looking for jobs this year. But where and how can you start?
Job Seekers Database
Government, through the Umsobomvu Youth Fund, has started a free database (collection of information stored in a computer) called JOBS on the Internet.
JOBS is the nickname for 'Jobs and Opportunity Seekers Database'. It helps young people to find jobs by placing their information on the database. Employers who are looking for people to work for them can then go to the database to find the right person for a particular job.
To put your information in the form of a curriculum vitae (CV) on the JOBS database, go to www.youthportal.org.za on the Internet.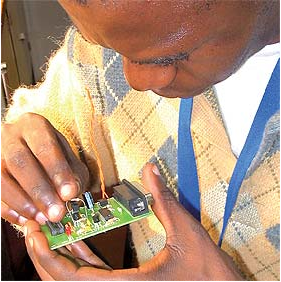 Useful Information
The Umsobomvu Youth Fund will also help with useful in-formation like learnerships, skills development and business and job opportunities that are available to young graduates.
You can visit any of the Umsobomvu Youth Fund's Advisory Centres for more in-formation. See contact details opposite page.
Department of Labour
The Department of Labour can also help you find a job. You can register your name and work details on the department's work seekers database.
To register, applicants must fill in a Work-Seekers Registration Form. These are available from your nearest Labour Centre or Provincial Office of the Department of Labour.
Your own business
If you have always dreamed of starting your own business, you don't have to join the long line of job seekers. You can realise your dream of becoming an entrepreneur through government's Small 7Enterprise Development Agency (Seda).
Seda will help you with information like how to start and run your own business and how to get the right business training. They work with organisations that support small businesses throughout the country.
Seda has Enterprise Information Centres and branches in the main centres of all the provinces.
Learnerships
Have you ever wanted to study at a university or college, but don't have money? Government wants all young people to have opportunities for further study and has a plan to help you with money.
For the past five years, Sector Education and Training Authori-ties (SETAs) have provided training and money to develop skills through learnerships.
Learnerships are part of government's plan to develop skills. A learnership means that you work for a company, while getting specialised on-the-job training and study at the same time. The relevant SETA will pay the costs of the training. Competition for learnerships is tough and applicants must do a selection test before being accepted.
- Justice Mohale and Ndivhuwo Khangale
Unemployment has dropped by one percent in the past year. Many people are finding jobs, but many are still looking for jobs.
Helping young people to get training in the form of learnerships, is part of government's plan to grow the economy and reduce poverty
 Umsobomvu Youth Fund: For your nearest Umsobomvu Youth Advisory Centre, or more information on the JOBS database: (011) 651-7000. For more information on job opportunities, go to the Umsobomvu Youth Fund website: www.youthportal.org.za
 
•For your nearest Seda Enterprise Information Centre or branch office: 0860 103 703
 
•For your nearest Labour Centre or Provincial Office of the Department of Labour: (012) 309-4000 or go to www.labour.gov.za
    
For more information, call Batho Pele Gateway Call Centre: 1020
 For more information on learnerships in your particular field of interest,
contact one of the following SETAs:
Construction SETA: (011) 265-5900
Services SETA: (011) 276-9707
Bank SETA: (011) 805-9661
Transport, Education and Training Authority: (011) 781-1280
Media, Advertising, Packaging and Printing: (021) 910-3001, (011) 234-2311
Mining Qualifications Authority: (011) 630-3500
Safety and Security: (011) 347-0200
Primary Agriculture Education and Training Authority: (012) 325-1655
Manufacturing, Engineering and Related Services: (011) 484- 9310
Council on Higher Education: (012) 392-9100 / 9126
Chemical Industry Education Training Authority: (011) 726-4026
Clothing, Textile, Footwear and Leather SETA: (031) 702-4482 / (011) 402-0711
Energy SETA: (011) 689-5300
Education, Training and Development Practice: (011) 628-5000
Financial and Accounting Service: 086 101 0001
Forest Industries Education Training Authority: (011) 712-0600/01
Food and Beverages Manufacturing Industry: (011) 253-7300
Health and Welfare SETA: (011) 607-6900
Insurance SETA: (011) 544-2000
Local Government and Related Services: (011) 456-8579.