FIND THE HIDDEN WORDS
Print this page to complete this game...
The words listed below are often used in Vuk'uzenzele. See how many you can find, then circle them like the words 'JOBS' and 'WE'. Remember, the words can go down, across, or diagonally from top to bottom or from bottom to top. You can also see how many of the words you can find in Vuk'uzenzele.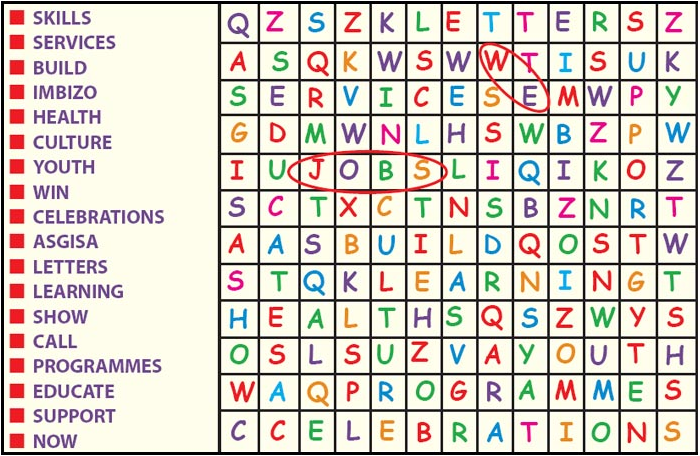 CHOOSE THE WORD THAT DOESN'T MATCH
Limpopo | Gauteng | Western Cape | North West | KwaZulu-Natal | Kalahari
Mpumalanga | Free State | Northern Cape | Eastern Cape
CLICK HERE FOR THE ANSWER
WHICH ANIMAL IS NOT ONE OF THE "BIG FIVE"
Elephant | Rhino | Lion | Kudu | Leopard | Buffalo
CLICK HERE FOR THE ANSWER
MATCH THE FOOTPRINTS
Animals and their footprints (also known as 'tracks' or 'spoor') is the theme of a set of stamps issued by the South African Post Office. See if you can match the tracks below with the animals. Write the number of the track next to the matching animal's name below the picture.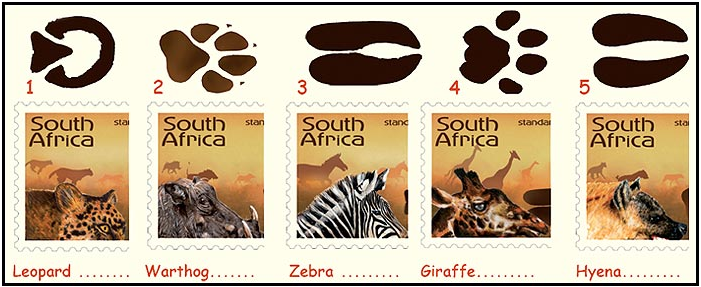 Stamps and images used with the permission of the South African Post Office