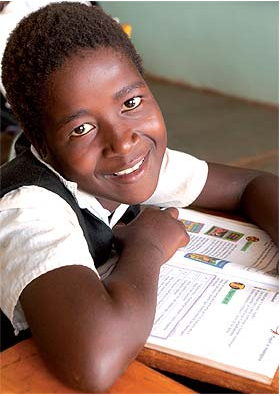 South Africa needs more skilled people to help grow the country's economy and fight poverty.
We have far fewer workers with special skills than we need. We need more skilled electricians, carpenters, builders, technicians and people with knowledge of information technology.
Specialised Jobs
Minister of Education, Naledi Pandor, said that over the next three years, there will not be enough qualified South Africans for many thousands of specialised jobs.
In information tech-nology, 113 000 jobs will be available.
Another 60 000 jobs will be available in technology fields like telephones and the Internet.
To solve this problem the Department of Edu-cation has introduced a new curriculum in schools. Learners now learn subjects and skills that will prepare them to study at universities and colleges and to qualify for the careers they want.
Senior Certificate
Grade 10 learners started with the new curriculum in 2006. Grade 11 learners start this year and Grade 12 learners will start next year. All learners in the new curriculum must do seven subjects in Grade 10, 11 and 12 to qualify for a National Senior Certificate.
Subjects now have new names. For example, Biology has become Life Sciences and Home Economics is called Consumer Studies. Typing and Computing has been changed to Information Technology. The new names show that the subjects include new knowledge and skills.
South Africa is not the only country to introduce a new curriculum. Many developed and developing countries have also changed their national curricula. The purpose is to teach learners the modern knowledge and skills needed in today's world.
Important Subjects
Pandor says that each learner must now do two of South Africa's official languages. One must be the learner's home language.
All learners must also do Mathematical Literacy and Life Orientation. So four subjects are compulsory. Learners have no choice about doing them, but they can choose their other three subjects from a wide range of options.
"Knowledge of technology, mathematics, science and life skills is very important in today's world," Pandor said.
By preparing young people with these skills and knowledge from an early age, we are helping them to succeed in life and work, she said.
Your own business
If you have always dreamed of starting your own business, you don't have to join the long line of job seekers. You can realise your dream of becoming an entrepreneur through government's Small 7Enterprise Development Agency (Seda).
Seda will help you with information like how to start and run your own business and how to get the right business training. They work with organisations that support small businesses throughout the country.
Seda has Enterprise Information Centres and branches in the main centres of all the provinces.
Learnerships
Have you ever wanted to study at a university or college, but don't have money? Government wants all young people to have opportunities for further study and has a plan to help you with money.
For the past five years, Sector Education and Training Authori-ties (SETAs) have provided training and money to develop skills through learnerships.
Learnerships are part of government's plan to develop skills. A learnership means that you work for a company, while getting specialised on-the-job training and study at the same time. The relevant SETA will pay the costs of the training. Competition for learnerships is tough and applicants must do a selection test before being accepted.
- Ndivhuwo Khangale
The new syllabus will teach learners modern knowledge and skills needed in today's world
 
For more information about the curriculum, contact the toll-free number: 080 020 2933.