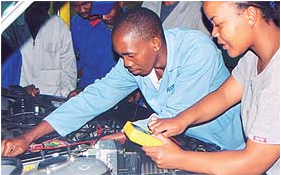 Passing matric is like crossing the bridge to a brighter future.
It is after passing matric that learners can go to universities or colleges to study for a career. Getting good matric results opens doors to scholarships.
But, if you don't have a matric certificate, don't give up hope of having a career. There are other opportunities for further study.
New Programme
In the past, there were work-related N-programmes for learners who did not have matric.
The N-programmes ranged from N1 to N6 and were offered by the Further Education Training (FET) colleges. But these programmes have now become outdated.
To replace the N-programmes, the Department of Education introduced a new programme - the National Certificate (Vocational). 'Vocational' means it focuses on giving students specific job skills.
To qualify for the new vo-cational programme, you need to pass Grade 9. Unlike the N-programmes, which were half-year courses, the National Certificates are one-year courses.
General education
The new programmes will give a general education on subjects like communication, mathematics and information technology. This will be combined with specific vocational subjects that train students in jobs where they use their hands, like mechanics or technicians.
National certificates
The new programme will be introduced over three years starting this year. N1, N2 and N3 will become Level 2, Level 3 and Level 4. All these certificates are offered under the National Qualifications Framework*.
Further study
Students who have completed Level 4, can look for a job in the field they have been trained in. However, they also qualify to continue their studies for a diploma or degree at a college or university.
- Ndivhuwo Khangale
*What is the National Qualifications Framework (NQF)?
It is a scheme that registers all standards and qualifications in education and training throughout South Africa. It aims to bring together separate education and training systems into a single, national system in line with high standards.
For more information, contact the Department of Education:
080 020 2933 or call 1020