Transport Month
A black-owned bus company is making inroads in the transport sector while also creating sustainable jobs.
A group of bus operators in Butterworth, Eastern Cape are proof that a lot can be achieved when people work together. Pulling resources together resulted in the formation of a multi-million rand company for small bus owners in the Eastern Cape.
Africa's Best 350 (AB350) came to life when about 243 bus operators joined hands to start a bigger bus company.
AB350's chairman Simlindile Hintsa said in 2005 independent bus operators in the province struggled to access government subsidies.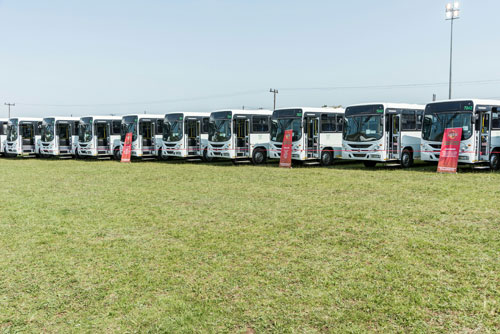 As a result bus operators under the Eastern Cape Bus Operators Association along with other bus operators opted for a merger to and formed one company.
Currently the company is a 100 percent black-owned with 580 employees along with a fleet of over 160 buses transporting people across the province.
In 2017 AB350 generated about R230 million in revenue.
Hintsa said their success is as a result of support from the provincial Department of Transport (DoT) and the Eastern Cape Development Corporation (ECDC).
 "Our growth happened because we moved from a position of working in silos and work in collective arrangement and that makes it easy to engage with government and stakeholders and the impact is positive."
Hintsa added that the company also received support from the Industrial Development Corporation (IDC) who financed the purchasing of 55 buses.
"The Development Bank South Africa, National Empowerment Fund ECDC, Scarnia Finance and IDC funded us with a total amount of R64-million for the 55 busses."
Hinsta explains that the company has since grown and now has 165 buses. The provincial DoT has also issued R12 million for four bus depots and a further R43 million for infrastructure in line with transport development.
According to Hintsa, the company is building a workshop funded by the NEF, where all their buses will be repaired.
"We used to go to Durban for repairs and maintenance, and now we'll be able to service and repair our own buses. That is total industrialisation of the company. Our operators will have access to nearby resources," he said.
He added that it is important for small businesses to pull together their resources to build bigger and stronger businesses adding that their model could also be replicated in other provinces.