KwaZulu-Natal to benefit from foreign investment by a Japanese tyre company.
About 600 jobs have been created in Ladysmith KwaZulu-Natal thanks to a R970 million direct investment by Japanese tyre manufacturing company Sumitomo Rubber South Africa (SRSA).
Sumitomo manufactures the popular Dunlop, Sumitomo and Falken tyre brands. It has taken a step further by recently launching its new, state-of-the-art Truck and Bus Radial (TBR) factory.
Ladysmith mayor Vincent Mayiboyi Madlala said the investment from the Asian company was not just about the people of Ladysmith but will also benefit the province through job creation and growing the economy.
"The factory has created about 600 job opportunities in the municipality of Ladysmith since the inception of the company in our city. With the new expansion it is expected to create a f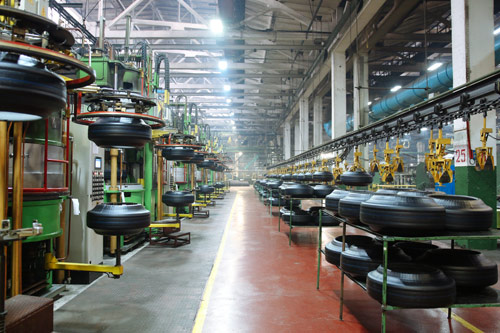 urther 400 permanent jobs," said Madlala.
He added that with skills shortage being a challenge in Ladysmith, Sumitomo also took to other areas in the province such as Richards Bay and Escourt providing decent jobs for people in those areas.
"In some cases the company has taken people from our province for training in other countries in our continent where they have a footprint. To us this is boosting skills development for people in our city and province," Mayor Madlala added.
Production Trainee Specialist at the SRSA factory, Sifiso Vilakazi is one of the people who has been equipped with skills.
'TBR has changed my life by providing me with skills, knowledge and training in different processes of tyre technology.  It has improved my financial position and enabled me to think bigger about my future."
A trained assessor, Vilakazi, is passionate about training, which he believes is important to developing and maintaining a common culture, ensuring employees know the rules and how to work smart in order to achieve the highest global standard of production.
The second phase of SRSA's investment included the upgrade and modernisation of the plant to introduce and manufacture truck and bus tyres locally, bringing the total investment into the Ladysmith facility since 2014 to more than R2 billion.
This is also the first time Sumitomo Rubber Industries has established a Truck and Bus Radial factory outside of Asia.
The tyre industry contributes a whopping R20 billion to the national coffers and employs around 7 000 people.
Meanwhile President Cyril Ramaphosa and his economic envoys have been globetrotting seeking investment to help grow the economy and create sustainable jobs for South Africans.
The envoys are former finance minister Trevor Manuel, former deputy finance minister Mcebisi Jonas and business representatives Jacko Maree and Phumzile Langeni.
During the appointment he said, "I've asked these wonderful South Africans to travel across the world, to tour the world… with a view of encouraging would-be investors to come and invest in our economy,"
In his State of the Nation Address President Ramaphosa's announced that a two day Jobs Summit would take place from 4-5 October.
The Summit was attended by the National Economic Development and Labour Council and the constituency leaders such as business, community and labour to look at ways of creating jobs for South Africans.
The Summit took place at a time when Statistics South Africa announced 27.2 percent unemployment rate in the second quarter of 2018. It is hoped that the Summit will bring solutions to the country's job status which will be in line with the National Development Plan which aims to raise employment 24 million by 2030.
 
"The greatest glory in living lies not in never falling, but in rising every time we fall." Nelson Mandela