Written by Hlengiwe Ngobese
A chilli sauce business is tantalising the taste buds in KwaZulu-Natal.
Nkosi Phungula can be described as a serial entrepreneur focused on growing his chilli sauce business. 
Phungula (27)  is the owner of Foodie Kings a Port Shepstone-based company in KwaZulu-Natal that manufactures organic chilli paste, chilli sauces, peri-peri sauce, marinade sauce and chilli mayo.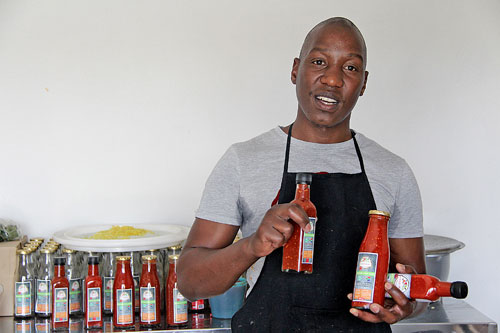 It supplies local supermarkets, caterers, shisa-nyama eateries and flea markets. 
At this year's eThekwini Municipality's Business Fair, Phungula walked away with R19 000 for the Best Exhibition Stand.
On top of this he was approached by the Inkosi Albert Luthuli International Convention Centre to supply his lemon and herb sauce. Phungula told Vuk'uzenzele that when he started Foodie Kings he had only R30 in his pocket.
"I did extensive research about the chilli sauces on the internet. I then decided to take, leap of faith and started the business."
He began with his original chilli sauce using cayenne pepper and people love it.
"I approached the uMzumbe Municipality for a business development grant because I wanted to buy an industrial machine that would be used for crushing and cooking in preparation for the sauce."
Phungula's business went to new heights when the uMzumbe and Ugu District Municipality helped procure two machines to run his business.
He adds that he produces about 1 500 bottles of chili sauce a day.
"I have employed two people who are assisting me. I decided to use a co-operative owned by women in uMzimkhulu who supply us with chillies just to support other black businesses," he said.
Phungula said running a food business has its own challenges because one needs to comply with health regulations.
Phungula said even though the business started off slowly, he knew that it would grow one day.