It is art and not his disability that has shaped the course of the talented artist's life.
Despite a debilitating disability, visual artist Sicelo Matrose's world is as bright as an artist's palette.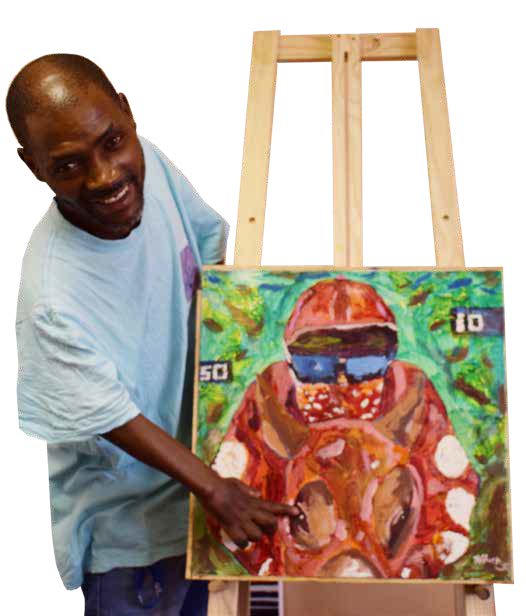 At age seven, he found a place of comfort in art and ever since, has used his creativity to live a full life.
Sterkspruit-born Matrose (38) has birth-related diplegia and his upper limbs are contracted and stiff. Visual art has been the saviour that allowed him to overcome his physical challenges and create a rich, colourful world.
His determination and his dad's unwavering support also allowed him to rise above alcohol abuse.
Today, Matrose's works include ceramics, sculptures, paintings and drawings, all of which are inspired by the world around him. "My art is a reflection of the times that we live in," said Matrose.
"I'd like to think of myself as a contemporary artist using Renaissance elements," he added.
Although he struggles to sell his work, Matrose supports himself by doing signwriting at Bloemfontein supermarkets and he is the Marketing Officer at the Free State Performing Arts and Transport for People with Disabilities.
Matrose joined the organisation to help other aspiring artists living with disabilities who did not have the opportunity that he did to go to school. He holds a Marketing Management N6 qualification, a Diploma in Fine Arts and is currently studying towards becoming a teacher.
It is his wish to see Free State artists joining forces to promote the sector in the province. "Without resources and unity, it is difficult to forge ahead. We particularly need a studio where we can work freely," he said.
Matrose is currently working on a hand-written and hand-illustrated comic book that he hopes to have published.
"The comic book is a way for me to encourage other people, whether they are living with a disability or not, to never give up and to fight for their dreams, no matter what. I once lost everything, but I managed to bounce back."
His greatest achievements are exhibiting his work last year at the International Day of Persons with Disabilities celebration in Cape Town and this year at the Mangaung African Cultural Festival.