Written by *Lerato Mailoane
Sport, arts and culture
MEC for Sport, Arts, Culture and Recreation (SACR) Faith Mazibuko has reassured artists that the Gauteng Provincial Government is committed to working with communities to support the arts industry.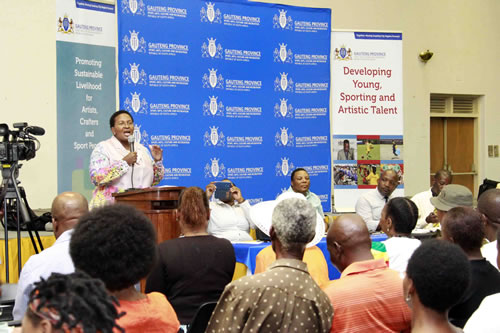 "The work you do is very important to our communities because you keep young people off the streets, thereby curbing drug abuse; it also helps us keep them safe and away from violence," said MEC Mazibuko during a meeting with artists from communities around Gauteng.
Since her appointment in October last year, MEC Mazibuko has met various stakeholders to ensure they also benefit from departmental programmes.
During the meeting, artists raised concerns on a range of issues including performing arts groups' struggle to find space to rehearse and perform.
Coordinator of Kasipoetics, a contemporary arts and cultural activities group based in Alexandra township, Themba Khoza said finding rehearsal and performance space was becoming increasingly difficult.
He appealed to the MEC to help performing artists deal with this challenge as it was a problem in many townships across the province.
"Preference is given to those who can afford to pay for municipal halls. Non-profit organisations don't ever get space because we cannot pay," he added.
Also in agreement was director of a youth group in Soweto, Sipho Nkondlo, who highlighted the cost of rehearsal and performance spaces as a challenge.
"I thought places of growth and resources like community centres would make their spaces easily accessible to student and youth productions, but instead, finding a viable space becomes more challenging than directing the production," he said.
In response, MEC Mazibuko said the next step in fostering the growth of the township art scene was not only about building new arts facilities but also making these facilities directly available and accessible to the community.
"Youth today lack fun activities which they can do in their communities, thereby leading them to abuse drugs. The critical question we must always ask ourselves is how do we mentor and encourage them to participate in performance arts."
She said government was committed to building a relationship with this sector of the community and wants to partner with artists to address these and many other challenges facing communities.
* Lerato Mailoane works for the Gauteng Department of Sport, Arts, Culture and Recreation