Government's Expanded Public Works Programme (EPWP) continues to make steady progress in creating work opportunities and is on course to meet its five-year target.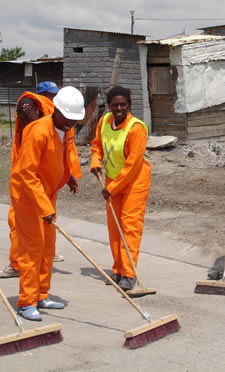 This is according to Social Development Minister Bathabile Dlamini, who briefed the media as chair of the Social Protection, Community and Human Development Cluster recently.
The various clusters of government hold briefings after the President delivers the State of the Nation Address to further unpack progress made in government's Programme of Action.
The cluster includes the departments of Cooperative Governance and Traditional Affairs, Human Settlements, Public Works, Social Development, Sport and Recreation, Arts and Culture, Health, Science and technology, Basic Education, Water and Sanitation, Rural Development and Land Reform, Labour and Higher Education and Training, among others.
A Programme of Action is government's plan to change people's lives in the year ahead.
The EPWP is one of several interventions by government to create work opportunities and break the cycle of unemployment and poverty.
Minister Dlamini said since the inception of the EPWP Phase 3 in the Eastern Cape in April 2014, about 1.5 million work opportunities had been created against a set target of six million work opportunities by 2019.
The EPWP has maintained over 40 000km of provincial access roads and serviced 595 schools through food production gardens
operating within the National School Nutrition Programme (NSNP).
"In order to assist with the rollout of the various EPWP training programmes, the EPWP has partnered with the Agricultural Sector Education and Training Authority, the Culture, Arts, Tourism, Hospitality and Sport Sector Education and Training Authority as well as the Manufacturing, Engineering and Related Services Sector Education and Training Authority to train 3 922 EPWP participants by 31 March 2016," said Minister Dlamini.
Through the Non-Profit Organisations (NPOs) programme of the EPWP Non-State Sector (NSS), the Department of Public Works has continued to work with civil society
organisations that create work opportunities for the poor and unemployed.
Three hundred NPOs will be contracted to implement the NSS programme on behalf of government across all provinces in 2016/17.
"We hope that we can continue working together on the critical issues of social protection, community and human development.
"We must work together to encourage creative methods to meet the needs of citizens that have made our country a great place to live," the Minister said.