The 66 megawatt solar photovoltaic plant (PV) project site in Lephalale, Limpopo, will go a long way in  boosting the country's efforts to resolve the energy challenge.
Communications Minister Faith Muthambi visited the project situated about 5km east from South Africa's border with Botswana, recently. The project is one of many highlighted by President Jacob Zuma in the Nine-Point Plan, which seeks to ignite growth and create jobs by focusing on resolving the energy challenge.
Minister Muthambi, who was accompanied by the District Mayor of Waterberg, Rosinah Mogotlane, and Lephalale Mayor Jack Maeko, said she was happy to hear that more than 200 people were employed at the solar plant. "The project management told us they are going to employ more people in 2016. The Nine-Point Plan has priority interventions that are job drivers and create employment by unlocking the potential of small businesses, cooperatives, township and rural enterprises.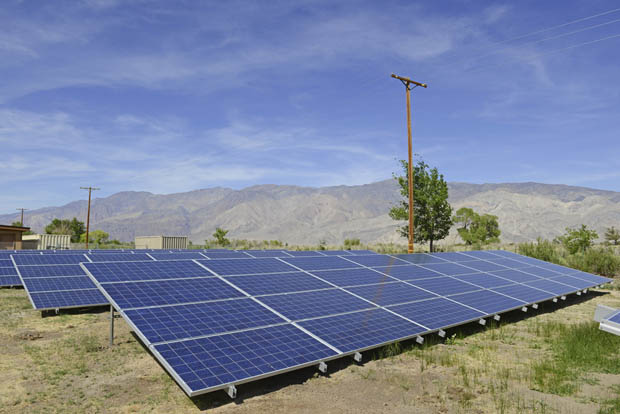 "There are interventions that help the economy to grow such as building a good transport network in the country. Other interventions that are aimed at solving the challenges we face include ensuring a good energy supply," she said. The CEO of Tom Burker Solar Park, Lamberto Dai Pra, said  R850 billion had been invested in the project, with more than half a million solar panels that will supply power to about 40 000 South African families.
"We are glad to announce that we have already created jobs for 260 people and we are planning to employ more people next year. This is a massive project… The total area is 148 hectares. Our expected commissioning is February, while our planned capacity is 66 megawatts.
"The lifespan of our solar panels is 20 years and the connection to the Eskom grid will be in the Eskom 132kV/22kV station through a step-up substation located here, which forms part of the project site.
"There will be no need to build further power lines traversing other properties or to acquire servitude rights or further authorisations," he said. Some of the communities, which will benefit from the project are Ga-Seleka, Tlapeng, Rietfontein, Mothlasedi, Moong, Morwe, Botshabelo, Madibaneng and Letlora.
Mayor Maeko said 99 per cent of the people working at the project were local residents. Local entrepreneurs will also benefit from the project. "As a municipality, we want our people to benefit from all the economic development happening in their area."
Headman Phetogo Seleka said he was happy to witness government initiatives that improve the lives of his people. "Things are happening here. Government is also expanding our local main road, thus creating jobs for the unemployed… I'm so excited to see all these developments taking place in my area," he said.
Local resident Collins Maeteletja said: "With all these developments in the whole of Lephalale, the challenge now is on our youth to be educated because they won't benefit if they are not educated but people from far will come and take over all these opportunities."