At a glittering ceremony held in Sandton near Johannesburg on 15 June 2022, the Pan South African Language Board (PanSALB) awarded the Multilingualism Award in the Government/Public Sector category to the Government Communication and Information System (GCIS).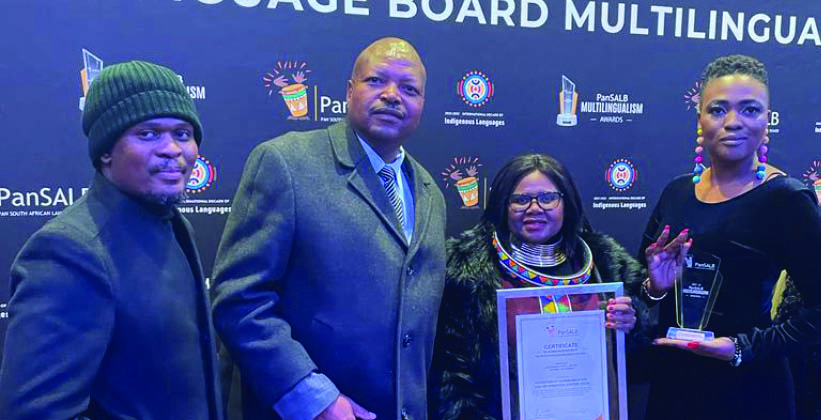 The certificate and trophy were 'for an effective service delivery campaign, project or programme in the public sector that seeks to promote multilingualism or any of the 11 official languages, including Khoi, Nama, San as well as South African Sign Language'.
Congratulating the language unit team, GCIS Director-General Phumla Williams said: "Thank you for flying the GCIS flag high."
By virtue of its constitutional mandate to provide the public with information that is timely, accurate and accessible, the GCIS is responsible for providing strategic leadership and coordinating government communications to ensure that the public is informed and has access to government programmes and policies that benefit them.
Section 6 of the Constitution of the Republic of South Africa of 1996 guarantees equal status to 11 official languages – Afrikaans, English, isiNdebele, isiXhosa, isiZulu, Sepedi, Sesotho, Setswana, Siswati, Tshivenḓa and Xitsonga – which enables the former marginalised languages to flourish.
The GCIS has over the past years been consistently producing some of its communication material in all the official languages. In addition to handling various ad hoc communication products, the department's language unit is also responsible for partially translating articles for the fortnightly Vuk'uzenzele newspaper and the Cabinet Statement. It also harvests, develops and consolidates relevant terminology.
During the national lockdown, the unit was at the forefront of making information on COVID-19 timeously available in all official languages. It also facilitated translations into the two dominant Southern African Development Community languages, Portuguese and French.
Did you know?
The annual PanSALB Multilingualism Awards were established in 2002 to:
promote and recognise exceptional work in the promotion of all official and other South African languages;
broadcast the importance of multilingualism in South Africa;
enhance the use of all official languages;
raise awareness on the role of languages in general as a uniting agent to the people of South Africa; and
publicise the role of PanSALB in fostering the climate of equitable language practice.