Young fashion designers in KwaZulu-Natal have been given the once-in-a- lifetime opportunity to be mentored by the award- winning designer David Tlale.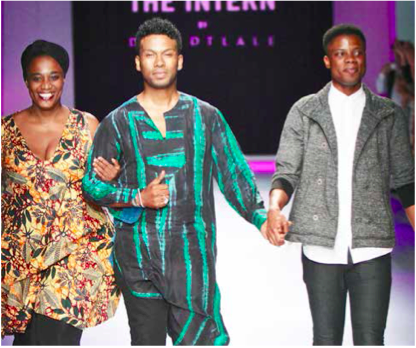 The initiative is thanks to a partnership between the KZN Department of Economic Development and Tourism and Tlale, which is aimed at nurturing up-and-coming designers.
Ayanda Mthembu, whose journey with fashion began as a teen when he sketched outfits for paper dolls and led to a fashion and textiles course at the Durban University of Technology, is one of the interns to be taken under Tlale's wing.
"Fashion is my calling, my soul, my passion and my gift and I was created to design, so I had to apply for the internship," said Mthembu.
He was accepted into the programme and has been mentored by Tlale, who in 2009 was named Designer of the Year after showcasing his debut Spring/Summer 2010 Ready-to-Wear Collection at Africa Fashion Week.
Mthembu said the year long internship was a dream come true.
"It is an amazing experience, especially since I don't have any experience in the industry as yet, so this is a great opportunity to start off my career with the most amazing and talented designer in Africa."
Putting together his very first collection during the Mercedes Fashion Week was exciting yet scary, says Mthembu.
"It was truly an emotional experience, seeing all my hard work coming to life on the runway is the most fulfilling feeling ever. It was undoubtedly the best experience of my life."
The KZN Department of Economic De- velopment and Tourism has made progress in growing the fashion and textile industry in the province.
"The province of KwaZulu-Natal has always looked favourably on nurturing young fashion designers in the province. It is for this reason that we decided to partner with David Tlale in order to cultivate new talent, creating a platform for these young KwaZulu-Natal designers where they will be able to learn how to run a business in the fashion industry and create job opportunities," said MEC for Economic Development and Tourism Michael  Mabuyakhulu.
Mthembu is one of four interns who have the opportunity to learn from Tlale.
The designers face the demands and realities of the fashion world and the business of fashion, according to Tlale.
"There's a profound difference between the theoretical work and a hands-on experience. I feel that this gives young designers an enriching practice. This way they get to see us work as we build a collection from scratch," he added.
Designers get to work behind the scenes at fashion week and catch a glimpse of the fashion week mania, as well as witnessing the day-to-day running of a fashion business.
For more information on the internship programme call the KwaZulu-Natal Department of Economic Development and Tourism on 033 264 2535