State of the Nation Address
South Africa is a country hard at work, addressing the challenges facing it and improving the lives of its citizens.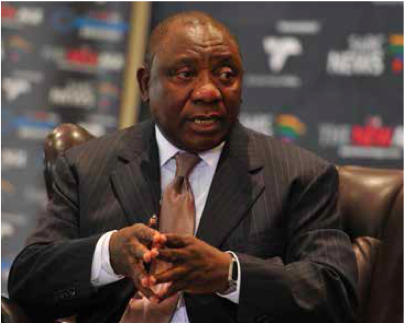 This is according to Deputy President Cyril Ramaphosa, who was speaking shortly after President Jacob Zuma delivered his State of the Nation Address recently.
Speaking at The New Age/SABC business briefing in Cape Town held recently, the Deputy President Ramaphosa said despite government's achievements over the past 20 years, South Africa still faced many challenges such as slow economic growth, inequality, poverty, unemployment, skills development and a shortage of sustainable energy.
"We are a country at work and we are working towards addressing these economic challenges that we face," he stressed.
Echoing President Zuma's comments, the Deputy President said that government was concerned about the low level of economic growth in South Africa.
He added that various measures would have to be put in place to grow the economy faster.
"There are a number of key factors that inhibits our growth as a country, such as the energy constraints and skills shortages. Many countries who wish to invest in our country look at our energy landscape and realise that due to the shortages it would be unfeasible for them to invest, so this is a serious problem for us."
As a result government has declared the energy shortage a top priority to be addressed.
"We are trying to create a sustainable energy mix which will include coal, solar, wind, hydro and nuclear energy. The coal-fired power stations at Kusile and Medupi would be brought online soon to address shortages as well."
In terms of skills, Deputy President Ramaphosa said South Africa does not have the number of engineers that the country and the economy need to drive it forward.
"We do not have the number of artisans and technicians that this country needs. We face a skills shortage in this country," he said.
"Our economy needs to perform at a higher level and the next five years will have to be about great economic activity," the Deputy President pointed out.
Government has set a target to grow the economy by at least five per cent by 2019.
"We can do this by creating more decent jobs in the country," he added.
He called on the private sector to get on-board and help government create sustainable jobs.
"The private sector must invest more by creating more learnerships and internships for the youth."
These kinds of work placements would address the skills shortage currently facing the country.
"Inequality and poverty is still a major problem for us and unemployment still affects many lives of our people. The State of the Nation Address takes place under huge economic challenges that South Africa and the world face, and therefore we will have to move with speed to address these challenges," said the Deputy President.
In the next few years, government will focus on the implementation of the National Development Plan and the proposals made in the election manifesto of the ruling party.
"One of the key issues that we have to address is creating jobs and to achieve this, we require a fast and much more inclusive economic growth. President Zuma has indicated that we are a nation at work. We are deter- mined to work in all sectors of economy to address the economic challenges that we face," added the Deputy President.