"As we mark International Mandela Day…let us begin planning for a major clean- up of our cities, towns, townships, villages, schools and beautify every part of our country."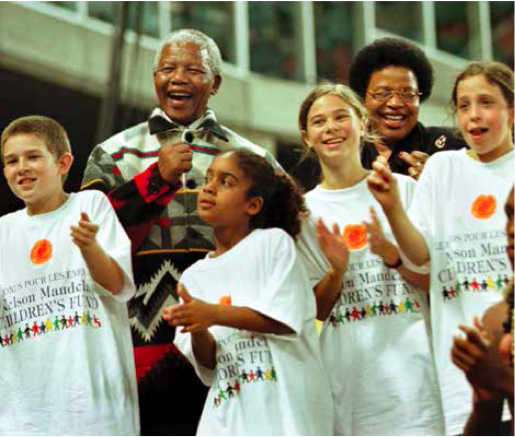 President Jacob Zuma issued this call in his State of the Nation Address recently, encouraging South Africans to dedicate at least 67 minutes of their time on 18 July, to clean the country in honour of the late former President Nelson Mandela.
President Zuma announced that government's theme for this year is to clean South Africa.  Seven months after the death of Madiba, his legacy will once again be honoured as the worldwide community reaches out to those in need on Nelson Mandela International Day.
Celebrated across the world in honour of the Madiba's birthday on 18 July, Mandela Day is an international call to bring positive change to communities. The day aims to empower communities everywhere through the slogan 'Take Action; Inspire Change; Make Every Day a Mandela Day'.
The campaign asks that individuals, groups, corporates and the public sector pledge 67 minutes of their time on 18 July and every day after that to give back.
Also as part of the country's 20 Years of Freedom and democracy celebrations, President Zuma highlighted that during Mandela Month records turning 20 years this year, such as those of the late former President Nelson Mandela's first days in office will be transferred to the National Archives.
He also urged South Africans to work hand in hand with government to make the Mandela legacy programmes, such as education and literacy, a success not just on Mandela Day but every day of the year.
"Government's programme of action is aimed at making South Africa a better place for all and we urge all South Africans to work with us to make the implementation of the Mandela programmes a success.  Together let us move South Africa forward," said the President.
Madiba magic
According to Sello Hatang of the Nelson Mandela Foundation, the idea behind Nelson Mandela International Day started after President Mandela visited the United Kingdom in June 2008 to mark his upcoming 90th birthday at a concert in London.
Addressing a crowd of over 50 000 people at the concert, President Mandela pointed out there was still much work to be done.
"Where there is poverty and sickness, including AIDS, where human beings are being oppressed, there is more work to be done. Our work is for freedom for all. After nearly 90 years of life, it is time for new hands to lift the burdens. It is in your hands now," he said at the time.
And with that, the idea of Mandela Day was born.
In 2009 the United Nations declared President Mandela's birthday as Nelson Mandela International Day.
"We as the foundation thought it appropriate to link Madiba's call for everyone to do what they can to improve the world with a symbol of his service. We chose 67 minutes as symbolic of the fact that Madiba had spent 67 years in service to humanity," explained Hatang.
This idea came from Mandela himself, said Hatang. "He cautioned not to turn July 18 into a public holiday but asked that it be a day of service instead."
Despite the great work done on Mandela Day and during Mandela Month, Hatang said, it was important for South Africans to incorporate the Mandela Day spirit into their daily lives.
"Since the first Mandela Day we have been moving away from marking just one day and just 67 minutes, the symbolism of Madiba's birthday is important and should be celebrated all year round to do good."
Sustainable projects
Those who want to make a difference should invest their efforts in sustainable projects, Hatang added.
"Important issues like youth upliftment and women empowerment are crucial to the well-being of our society. It would be to our advantage to incorporate the importance of these issues into the very fabric of our being as individuals and as a country.
"Madiba followed three rules throughout his life which he did at great personal sacrifice - free yourself, free others and serve every day. If his legacy is to be dynamic and continue to have an effect it must be owned by current and future generations. His legacy must be accessible and carried on by everyone," Hatang pointed out. He also cautioned South Africans not to turn Mandela Day or Month into a money-making scheme.
"If money is spent, let it be on creating sustainable projects that positively impact the lives of those less advantaged. In each and every step we take we turn to Madiba's legacy for our answers. It is from his legacy that we are inspired by the message of service. It is what he lived, a leadership of service."
This year, the foundation has chosen food security, education, literacy and shelter as the focus of Mandela legacy projects.
It has set a goal to distribute 670 000 food parcels to the needy by 2016 and ensure that learners who depend on one meal a day from school enjoy the same benefit during the long school holidays.
The foundation is also committed to establishing more food gardens, which would help sustain communities.
In keeping with Madiba's passion for education, the foundation launched the Mandela Day Container Libraries project in May at the Sohlazane Primary School in Tjakastad, Mpumalanga.
The library features 15 tablet computers loaded with eBooks, internet access and the registered Curriculum and Assessment Policy Statement (CAPS) curriculum.
On July 18, Mandela Day, dedicate 67 minutes to clean South Africa