A love for sneakers is what led Soweto-born Sifiso Dlamini to start a shoe design and manufacturing company in 2005.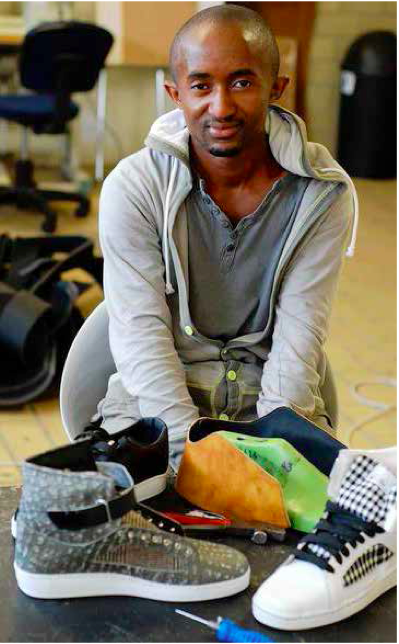 Almost 10 years later, Dlamini, 26, now runs a successful business.
It all started when Dlamini could not fi shoes that were unique so he decided he would make his own.
"I have loved sneakers ever since I could remember. I used to save up all my money to buy different brands but I wanted something different," he said.
With encouragement from his mother, Dlamini learnt to design his own.
"My mother suggested that I take a pair of old jeans and use them to redesign an old pair of sneakers. Even though my first design wasn't that good, I wanted to learn more."
By 2007, Dlamini had become better at it. "I take apart shoes down to the sole to see how they were made and what they were made of."
Soon he was selling his own creations to family and friends.
However, material and start-up costs were high, so the young entrepreneur started a games room at his home in Meadowlands and sold samosas to earn more income.
Word about his unique sneakers soon spread and more people in his community wanted a pair. He eventually opened his show company.
"I named my company Eish Hade. It is a slang term we use in the township. If someone steps on your toes by mistake, we say 'eish hade', which means 'oh sorry'."
After two years of trial and error Dlamini, armed with dreams and his creations, approached companies for funding, to take his business to the next level. Chemcity, Sasol's Enterprise Development Programme, decided to invest in the designer's talent by sending him on a business course to learn how to market and grow his business.
But the Dlamini's big break came in 2011 when Michelle Combrink of Zinto Activation Group, a brand building company, spotted Eish Hade's sneakers at a local festival and decided to invest. With the R10 000 from the group, Dlamini was able to buy raw material and rent office space.
Dlamini and his team then received business support to further boost their shoe ideas to greater heights from the Eskom Development Foundation in 2012.
In the same year the company was named a runner up in the Eskom Business Investment Competition. The competition, run each year by the Eskom Development Foundation, recognises and rewards the passion and perseverance of small local businesses.
"From that moment orders poured in from across the country, some from Los Angeles in the US. It was a dream come true. To deliver on these orders we worked day and night and we were able to produce 50 pairs of unique, hand-crafted sneakers in just three weeks, it was tough but we did it," said Dlamini.
The company received R25 000 in prize money and used the funds to purchase more machinery.
Dlamini urged young people not lose faith and passion in their dreams. "My advice to our youth is to never give up and to make sure they only surround themselves with positive people."
Despite his success, Dlamini is still dreaming big. "One day I would like to have a big factory, create jobs for youth and ensure that Eish Hade shoes are everywhere," he said.