Instead of waiting years to save up the money needed to build a home or attempting to secure an expensive loan, a group of Western Cape women have found empowerment through unity.
Women are the pillars on which a society is built. This is the motto of the 28 members of the Masakhe Ladies Stokvel, who are pooling their resources to build homes for each other on a rotational basis.
The stokvel's chairperson, Ntombekhaya Nyama-Plati (43), said the females-only stokvel, based in Gugulethu in Cape Town, was started to empower women and create economic opportunities for them and their families.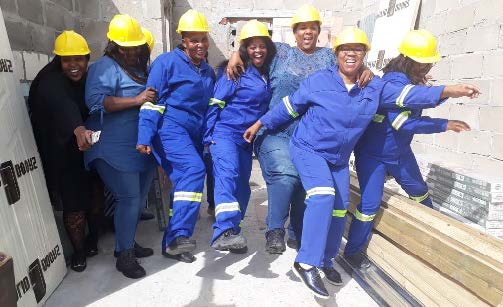 "Women can be change agents in communities but to do so, they need to ask how they can change things in their neighbourhoods," said Nyama-Plati.
She said it was asking this question that gave rise to the Masakhe Ladies Stokvel.
"I saw how unemployment was devastating my community and how families were stacked in small homes and wondered what could be done," Nyama-
Plati told Vuk'uzenzele.
Nyama-Plati said members of their stokvel each pay R2 500 a month. The money is used to buy building material and pay for a builder to build a home for one of the members each month.
Since starting the stokvel in April, three members have had their houses fully built and another house is under way.
According to Nyama-Plati, the stokvel's first benefactor was a woman whose house was unfinished because the family's sole breadwinner died before construction was completed. The two other homes built were backyard dwellings.
Two of the stokvel's members plan to have their homes built in rural parts of the Eastern Cape.
"We not only build houses for families without homes but also build backyard flats so that people can possibly rent them out for extra income," Nyama-Plati said.
Beneficiary and secretary of Masakhe Ladies Stokvel Nobantu Malgas said the stokvel has brought hope to the community. Malgas, who has built two backyard flats, said she managed to keep some of her allocation of money to buy equipment for chicken farming.
Nyama-Plati said they have been invited by an East London-based group to advise them on how to start a similar stokvel.
She said the stokvel, whose youngest member is 26, targets women because when you empower women, they often do the same for other members of society.
"In our democracy, there are opportunities for women but they don't know their strength. If women work as a united force, they can achieve a great deal," said Nyama-Plati.
She said that some members of the stokvel are now training to be builders themselves. The ladies are also set to receive training on how to make bricks.
During a training session hosted by cement manufacturing company PPC, the group was taught about the different forms of cement.
"We didn't know that the cement used in building is different to the one used for plastering."
The stokvel has become so popular that it now has a waiting list of people who want to join.