South Africa will soon welcome the champions of champions to compete in the Confederations Cup tournament. Participating teams are the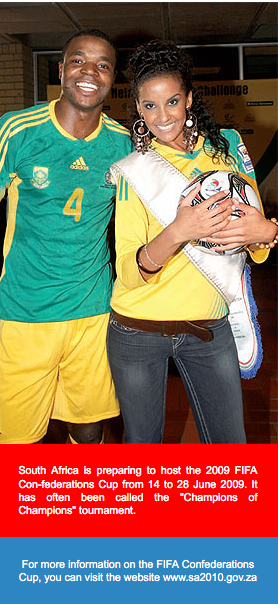 winners of competitions in different continents including South America, North and Central America, the Caribbean, Africa, Europe and Asia.
Countries that will be represented are South Africa, Spain, Brazil, the USA, Egypt, New Zealand and Iraq. The current FIFA World Cup champions, Italy, will also compete.
Stadiums
The Confederations Cup is a scene setter for 2010. It will serve to test South Africa's state of readiness ahead of the FIFA World Cup.
A total of 16 matches will be played at four stadiums. They are Johannesburg's Ellis Park, Rustenburg's Royal Bafokeng, Pretoria's Loftus Versfeld, and Bloemfontein's Free State stadium.
How to get tickets
Tickets for the event opened for sale in November 2008 and can be obtained till the end of March this year. You can get your ticket in two ways: through the Internet at the tournament's official portal, FIFA.com, or at all First National Bank (FNB) branches. Ticket sales will be in two phases.
First sales phase: 22 November 2008 to 31 March 2009. Ticket applications submitted during this stage will be processed, subject to availability, on a first-come-first-served basis.
Last-minute sales phase: 1 April 2009 to 28 June 2009. In this phase, applications for tickets will also be processed on a first-come-first-served basis, but ticket transactions will take place directly at the point of sale.
Online sales
If you have access to the Internet, you can visit the FIFA Confederations Cup South Africa 2009 ticketing website, FIFA.com. Ticket prices will start from R70 upwards. All tickets available to residents of South Africa are payable in South African rands.
There are two types of ticket products available for the FIFA Confederations Cup South Africa 2009:
tickets to individual matches
venue Specific Tickets or VSTs: these are tickets based on matches to be played in a specific FIFA Confederations Cup stadiums.
If you don't have access to the Internet
South African residents who do not have access to the Internet can apply for Confederations Cup tickets by using Ticket Application Forms. These are available from all First National Bank (FNB) branches.
Complete the Ticket Application Form and detach the Ticket Purchase Card. Once completed you can return your Ticket Application Form to a FNB branch, where all forms will be collected and checked by FNB for processing.
Alternatively, you can also post or fax the Ticket Application Form directly to the 2010 FIFA World Cup Ticketing Centre.
The address is: 2010 FIFA World Cup Ticketing Centre, PO Box 4928, Cresta, 2118. The fax number is: 011 567-2709.
Send only the ticket order form section of the Ticket Application Form.