Kha ri Gude means "let us learn" in TshiVenda. This mass literacy campaign reaches out to adults who didn't go to school. It teaches them to read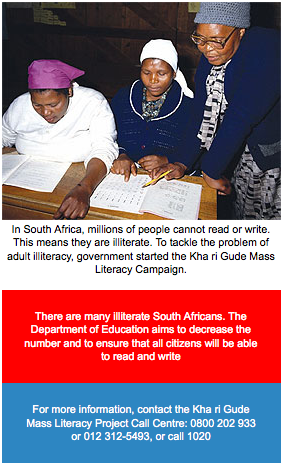 and write in their first languages. They also learn to do Mathematics and to speak English.
Government will be spending R6,1 billion on this campaign over five years. It enable 4,7 million South Africans to achieve literacy by 2012.
ABET
The campaign forms part of government's Adult Basic Education and Training (ABET) programme. To date, world-class learning materials have been developed with the support of the United Nations Educational, Scientific and Cultural Organisation (UNESCO).
The campaign will ensure that there are not more than 15 learners to one teacher in the adult schools. This will help teachers to give individual attention to each learner. Studies have shown that it takes about six months for a person to be trained in literacy and numeracy.
Volunteers
Classes started in April 2008. So far, 360 000 learners have enrolled of which 24 per cent are 60 years or older. About 20 per cent of the learners are young people below the age of 20.
About 24 000 volunteer teachers, 2 800 supervisors and 150 co-ordinators have been recruited and trained. Volunteer teachers receive a monthly stipend of R1 200 a month. As some of them are unemployed teachers this fights poverty as it helps them to support their families.
A co-ordinator helps 20 supervisors. A supervisor trains 10 volunteers and a volunteer is expected to recruit 15 learners.
Religious organisations and other community structures are mainly used to select the educators.
Official languages
The learning materials have been developed in all 11 official languages as well as in Braille. Workshops have also been held to train 100 blind teachers and 50 deaf co-ordinators.
In addition, the programme teaches foreign nationals to speak South Africa's local languages.
- Mbulelo Baloyi