Soon after South Africa was chosen to host the biggest sporting event in the world, government started preparing for the event. An amount of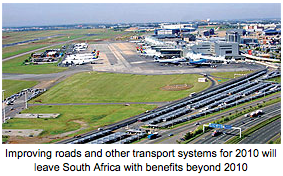 R11,7 billion was set aside to improve infrastructure like roads and public transport. This will give visitors to our country safe and accessible transport to travel to the different soccer events and to explore our country.
Disabled
Johannesburg residents recently had a chance to view a model of the city's Rea Vaya Bus Rapid Transit (BRT) station. The station is one of 150 that will be completed by May this year. This will be in time for the Confederations Cup in June, as well as the 2010 Soccer World Cup. The system is expected to transport about 430 000 passengers daily.
The system will reduce the number of cars used in the city, which means less traffic jams.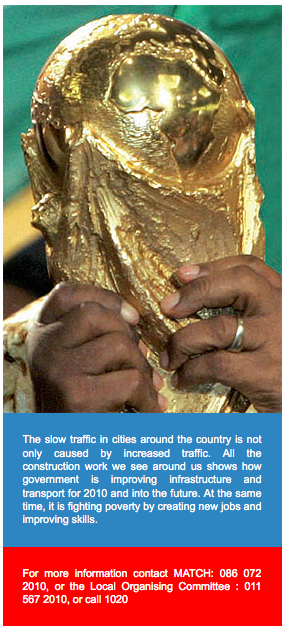 The BRT system was designed to be friendly to disabled people, including deaf and blind people. A special road will lead to the station so that public transport ser-vices will have easy access.
Gautrain
Work on the Gautrain rail link project is continuing. Two of the tunnels have already been connected- one from Mushroom Farm Park and one from the Marlboro Portal. The meeting of these two tunnels show that the project is on target to reach its goals. One of the goals is that the Gautrain route between Sandton and OR Tambo International Airport will be completed by May 2010. About 93 000 jobs relating to this project have been created.
Airport
Construction of the King Shaka International Airport in KwaZulu-Natal is also progressing well. It is scheduled to be completed by May 2010. This new international Airport at La Mercy north of Durban, will replace the existing Durban International Airport.
Studies have shown the Durban International Airport terminal is too small to handle the growing tourist and commercial trade through Durban, South Africa's busiest port. Passenger growth has doubled since 2005 from two million to four million passengers a year.
The new airport will be ready to handle passengers for the World Cup and thereafter. The runway is big enough to let new, large aeroplanes, called "new generation" aircraft, like the Airbus A380 super-Jumbo, land in the city. New access roads leading to the airport are also being built.
Jobs
So far, construction on the airport has created more than 3 000 jobs. It is expected that the number of jobs will increase to 6 000 once the airport starts working.
Apart from this airport, upgrades at the OR Tambo Airport in Johannesburg and at the Cape Town International Airport have also created thousands of jobs.
- Muzi Mkhwanazi