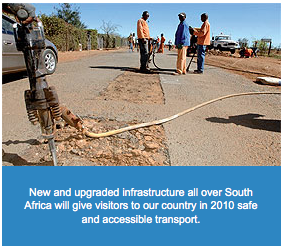 The 2010 World Cup will benefit South Africans greatly because it will leave us with an improved public transport system. We will use these facilities long after the 2010 Soccer World Cup is over.
Ease traffic
Until now, South Africa's public transport system has been unable to handle the fast growing volumes of traffic, especially in big cities. This is causing problems like very heavy traffic and accidents during peak hours.
New transport services that will start operating before the 2010 World Cup, will help ease this problem greatly. For example, during peak traffic times there will be trains available every five minutes. Train services will run 16 hours a day and travellers will be able to hop from a train to a bus or taxi.
Skills
Apart from the transport benefits that South Africa will enjoy, many people are already benefiting from the 2010 project in terms of employment opportunities and skills development. Many construction workers, engineers, and business people got opportunities to improve their skills, grow their businesses or create jobs.
Some people will gain skills through working as volunteers for different projects during the World Cup. About 5 000 volunteers have already signed up to help during the Confederations Cup and 15 000 for the World Cup. But this will not only help to develop volunteer's skills, it will also give them an opportunity to be part of the greatest sporting event in the world.