Government, through different national departments, is identifying those scarce skills that the economy cannot do without.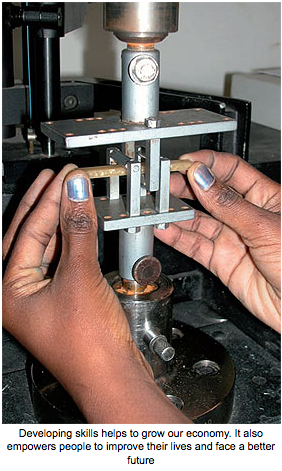 Sector Education and Training Authorities, called SETAs for short, form part of government's plan to develop such skills. The Department of Labour, in turn, has plans in place to help SETAs get information on scarce and critical skills.
Scarce skills are those that we have a shortage of and critical skills are those that the economy cannot do without.
Programmes
If we do not speed up skills training and development, South Africa could have a shortage of skills in the infrastructure sector for the next ten years. This could result in some big projects being delayed.
To speed up skills training, the Department of Labour with the help of the Umsobomvu Youth Fund and other government departments, have started skills development programmes that are available to unemployed youth and graduates.
The Youth Fund helps skills development and job creation through special youth development and entrepreneurship programmes. In addition, the Youth Fund also helps to reduce the high rate of unemployment among the youth by helping them to find jobs.
FET colleges
The labour and education departments are also speeding up skills development through Further Education and Training (FET) colleges, formerly known as technical colleges. This forms part of their contribution to the Umsobomvu Youth Fund's skills development projects for the youth.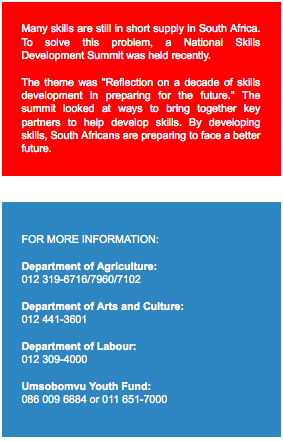 The Umsobomvu Youth Fund is presently working with 19 FET colleges to create skills programmes and learnerships.
The partnership between the Youth Fund and the FET colleges is aimed at reaching out to the youth, especially in poor communities in rural areas.
So far, learners in these communities have had limited access to training programmes.
Employees
The co-operation between the SETAs and the FET colleges is meant to link education with skills training. This gives young people the specific skills needed by employers in the workplace.
To help young people to access learnerships, the Department of Labour has put in place the Employment Skills Development Agencies (ESDA).
These agencies form a link between the learners and SETAs. They help those who seek learnerships through a training service company that offers training in particular fields as needed. There are ESDA offices in all the provinces.
Agriculture
The National Department of Agriculture has different skills deve-lopment programmes.
The Young Agricultural Entrepreneurs Development Programme specifically targets the youth. Its aim is to help young people who want to start businesses in the farming sector.
- Mbulelo Baloyi