WINNING LETTER
Treat customers with dignity and respect
Some people who started their own businesses, lose their customers because they treat them in a disrespectful way. Don't forget that your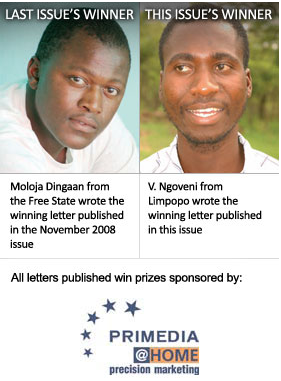 customers are your boss since you get money because of them. If a customer is cross with you, you must quickly find a way to make him or her smile again, even if he or she is wrong. Remember that in business the customer is always right. By treating customers with respect your business will grow strong so that you can face the many challenges that will come your way.
So, South Africa, please, let us learn to show respect and dignity to each other and to our customers so that our businesses could grow by increasing the number of customers.
- V. Ngoveni, Xihoko, Limpopo
 
Be open and honest about HIV and Aids
Aids is not an individual problem. It is so widespread that it affects all of us. Each of us has a duty to join the fight against this disease. While we are hiding it we will not be able to fight it.
We must break the silence and shame that surrounds Aids and deal with it openly and honestly. We must talk about it and bring it into the open so that we can deal with it. No one should be blamed for getting this disease; it can happen to any of us. But with knowledge and support we can make wise decisions and live HIV-free lives.
- Hajira Magwaza, Lamontville, KwaZulu-Natal
Live within your means
The price of goods and services are increasing every day and it's hitting us all hard. But we can pull through if we just consume what we need and use electricity economically. Many people buy simply to keep up with what their friends have. I wish people could learn to live according to what they can afford.
- Kenneth Mokone, Boleu, Mpumalanga
Let's start fighting poverty right now
I really love your magazine and I have learned many things from different stories.
I want to say to the readers that we must start helping each other. There are many poor people who don't have houses or food. They have to sleep outside and collect food in dustbins. Let's not blame government, we all have to work together with our government to fight poverty, crime and HIV and Aids. We can start by donating money and goods, or encouraging people to start their own businesses so that they can build houses for their families. Let's start doing something right now.
- Lwazi Mxolisi Mtsweni, Tweefontein, Mpumalanga
Let traffic officers do their jobs
When people don't do their jobs we complain, but when traffic officers do their jobs we also complain.
Especially in the morning, people get angry when there are traffic officers on the road, saying they'll be late for work. But there's a lot of traffic on our roads and lots of accidents happen. We can all help to avoid or eliminate them. Take responsibility, go to work earlier, don't drink and drive, and let traffic officers do their jobs in peace. They do an important job, so let's respect them.
- Monica Motshidisi Motaung, De Deur, Gauteng
Vote as a thinking nation
I am pleading with my fellow South Africans to go and register to vote, especially the youth. One philosopher said: "To reason critically is to think for yourself by challenging authority...".
To vote means we are going to question our government and to engage with possibilities and alternatives that our country offers. So let's go and vote as a nation that thinks and reasons critically.
- Fanyane Shabala, Steynsrus, Free State
Nobody likes a bully
Bullying is a big problem that affects a lot of children - it can make them feel scared, sad, worried, embarrassed or out of place. The stress of dealing with bullies makes it hard to concentrate on schoolwork when you're worried about how you are going to get around the bully. Having bullies around can take all the fun out of school. Some children are afraid to go to the library or the playground because of bullies.
Bullying affects everyone and not just the children who are getting picked on. Nobody likes a bully, so let's stand together against them.
- Miranda Dipheko, Ganyesa, North West
Stealing electricity makes others suffer
Our lives depend on electricity. Those of us who pay for electricity suffer because people connect it illegally. Because of this some of us end up not having electricity for days. I understand people are struggling and trying to make life cheaper, but please do it the right way. If you decide to open a business, find out how much connecting electricity would cost legally! Don't connect at someone else's place.
- Sello Thale, Tweefontein, Mpumalanga
Poverty is no excuse for crime
As a teenager I'm worried about crime among the youth. Many teenagers want to wear expensive clothes, but because they have no money, they do crime. They leave school because of the crime they do and then go and do more crime. A life of crime is not worthwhile. Poverty is no excuse for crime, because social development is there for you. Don't allow anyone to drive you to do crime, be the driver of your own life, don't be a passenger, because your life is precious.
- Thuso Khasibe, Maclear, Eastern Cape
Youth can create their own jobs
As youth, why do we waste our time and destroy our opportunities by committing crime, doing drugs and taking alcohol? We can create our own jobs, develop our country and reduce unemployment. There are so many opportunities if we look around. South African youth, let's stand up and show who we are. Older people are looking at us to be our best.
- Lerato Ramotsheki, Mokgwathi, Limpopo