In a move to help small-scale farmers to get their products to big markets, government has put a plan into action to open up bigger markets to
previously disadvantaged farmers. This is done through government's policy of changing the business processes of the past.
Programmes
In line with the plan, fresh produce markets in bigger cities are lending a helping hand to small farmers in rural areas.
There are about 19 major markets across the country and most of them have programmes in place to reach out to smaller farmers.
For example, the Johannesburg Fresh Produce Market is helping the Vhembe District Municipality in Limpopo to sell their goods at the Johannesburg Market.
Funding
Many big buyers, including major chain stores, exporters, whole-salers and informal traders buy from the Johannesburg Fresh Produce Market.
With funding from government, the Vhembe District Municipality is building a facility to package and grade products from small local farmers before sending it to Johannesburg. This is done to make sure the products meet the necessary quality standards.
Skills development
Once the new facility is complete, the Johannesburg Fresh Produce Market will give guidance on how to manage the facility. This will include meeting quality standards and applying quality control, marketing, development of packaging material, staff training, transport and hygiene standards.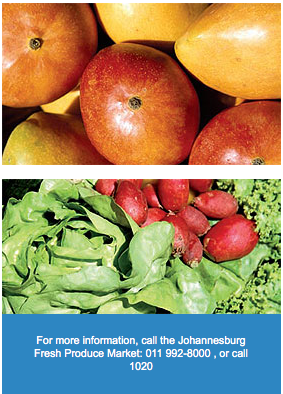 The guidance given to the officials who will run the facility, will help to develop their business skills. This is in line with government's policy of deve-loping skills to grow the economy.
Other cities
Other fresh produce markets in cities around the country are also reaching to out to small-scale farmers in their areas.
The Tshwane Market, for example, is teaching new farmers about packaging, as well as standardisation and grading of produce. They are also introducing new farmers to marketing agents who can sell the products on their behalf.
In the Northern Cape, the Kimberley Fresh Produce Market has undertaken road-shows to encourage smaller farmers to bring their products to the market. They will also teach local small farmers about quality and how to produce goods that meet the high standards required by the bigger markets.
The Mpumalanga Fresh Produce Market is helping new farmers with advice on how to produce products for which there is a high demand, like carrots and beetroot.
- Muzi Mkhwanazi