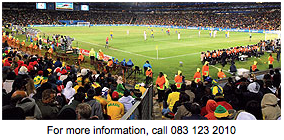 In January, Local Organising Committee (LOC) officials were worried that very few tickets had been bought for the group matches involving our own team, Bafana Bafana.
Among the reasons mentioned for the slow sales of match tickets was that local fans were not used to the FIFA ticket application method.
This method involved buying tickets using the Internet during specific times or filling in application forms at First National Bank outlets. Fans asked the LOC for a simpler and easier method for ordinary football fans to buy tickets.
Centres
From 15 April, local fans will be allowed to buy match tickets over the counter at ticketing centres to be set up at each of the host cities. Johannesburg will have two ticketing centres and the other cities one each. They are Tshwane (Pretoria), eThekwini (Durban), Cape Town, Mangaung (Bloemfontein), Rustenburg, Mbombela (Nelspruit), Nelson Mandela Bay Metro (Port Elizabeth) and Polokwane.
A total of 600 000 tickets will be sold at the ticketing centres on a first-come, first-serve basis. To qualify for these tickets, you must have a valid South African Identity Document (ID). You can use cash or a credit card.
Remember, if you buy tickets for friends or family, you must have their ID numbers on hand as well.
Local fans
By the end of January, almost two million of the three million tickets available for the tournament had been sold. About 80 per cent of those who applied were local fans.
During the third phase of ticket sales that ended in late January, more than 950 000 local fans had made applications to buy
tickets. The fourth phase for applying for tickets on the Internet or through FNB outlets started on 9 February and will end on 7 April.
- Mbulelo Baloyi
DID YOU KNOW?
By the end of January, apart from South Africa as the host country, the USA led ticket applications for the third phase with 50 217. The UK was second with 41 529, followed by Australia (15 523), Mexico (14 804), Germany (14 647) and Brazil (10 767).