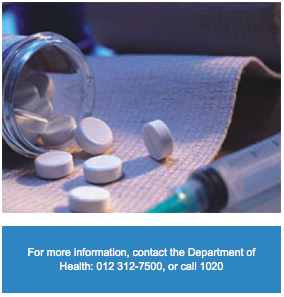 Hundreds of malaria cases have been reported in the Limpopo province since January. Certain areas in this province, as well as in Mpumalanga, and KwaZulu-Natal are known as high risk areas. If you travel to these areas, make sure you get medication to prevent malaria.
Communities in Vhembe, Mopani, Giyani and Ba Phalaborwa in Limpopo have recently been seriously affected by malaria. This disease is also a problem in Mpumalanga and KwaZulu-Natal, as well as in certain parts of the North West province, especially from October to May.
Mosquitoes
Malaria is an infectious disease spread by mosquitoes that carry the Plasmodium parasite. There are four species of this parasite. The most serious one is Plasmodium falciparum, which can be life-threatening.
When an infected mosquito stings you, it injects the malaria parasites into your blood. The disease kills over a million people every year, mostly in Africa.
To help communities in malaria regions, the Department of Health has formed 42 malaria teams around the country.
The teams visit areas affected by malaria and spray all the inside walls of homes to stop the mosquitoes from entering. So far more than 68 000 homes have been sprayed.
Symptoms
to malaria mosquitoes and you have any of the following signs of the disease, you must visit a clinic or doctor as soon as possible:
shaking and chills
high fever and sweating
constant tiredness
headaches or dizziness
nausea and vomiting
stomach cramps
dry cough
muscle or joint pain.
Malaria kills over a million people every year. Always take precautions when you visit a high-risk malaria area
Malaria patients also suffer from attacks, which can take place every second or third day.
Malaria can take up to 60 days to break down your immune system, so even if you do not feel ill immediately, visit your local doctor or clinic for a check-up if you have visited malaria risk areas.
What you can do
You can take the following precautions to protect yourself from malaria.
Before you travel to high-risk malaria areas, get anti-malaria medication from your doctor or clinic.
To help keep mosquitoes away, apply mosquito repellent gel on your skin, sleep under a mosquito-proof bed-net, spray sleeping areas with mosquito repellent and wear clothing that cover most of the body so you don't get bitten.
Visit your doctor or clinic immediately if you have signs of the disease - it can be deadly if it is not treated in time.
Visit your doctor or clinic often for check-ups.
- Samona Murugan