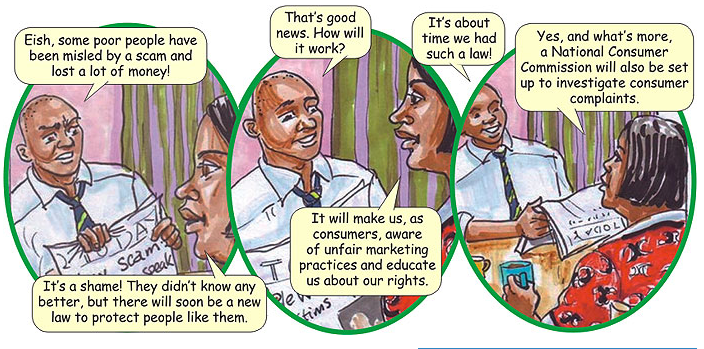 Many South African consumers do not know their rights. This will soon change with the new Consumer Protection Act. This law is aimed at ensuring that as consumers, we are protected against harmful practices and informed about our rights.
South Africans will soon be among the best protected consumers in the world. This is owing to the introduction of a new law, called the Consumer Protection Act, which will be enforced from October this year.
With this law, government wants to ensure that consumers are not misled or harmed by businesses and that they are treated fairly, reasonably and responsibly.
Educate
Until now, South Africans have not been educated about their rights as consumers. As a result, people are often misled and become victims of practices like unfair pricing, scams and direct marketing.
They often sign contracts without understanding what they are signing or buy products without understanding the labels.
Rights
The Department of Trade and Industry (DTI) introduced the new Act to address such problems. The law is aimed at ensuring that we, as consumers, are better protected and educated.
The Act also focuses on clear and understandable language on products and contracts to ensure that consumers understand exactly what they buy or sign.
Consumers' rights include that they must be told all details about the cost and content of goods they buy. In line with the new law, salespersons will have a responsibility to explain in detail the products they are selling. This will ensure that consumers are able to make well-informed buying decisions. It will help them to buy products and services based on honest and fair sales and marketing methods.
Direct marketing
To protect consumers from unfair direct marketing, the law states that as a consumer you have the right to refuse direct marketing.
The law will also give muscle to consumer groups filing complaints on behalf of consumers. Through the Act, accredited consumer groups will give financial support to consumers during legal disputes.
A National Consumer Commission will also be set up to investigate consumer complaints.
Responsibilities
The DTI has started a countrywide publicity campaign to educate consumers about their rights, as well as their responsibilities. The department wants to ensure that everyone understands all aspects of the new Act.
- Mbulelo Baloyi
For more information on the new Consumer Protection Act contact the DTI on 0861 843 384