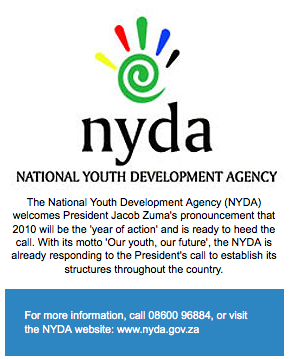 The NYDA, which was launched in June last year, is committed to making a difference in young people's lives. Its main aim is to advance the economic development of young people.
During his State of the Nation address, President Zuma said we needed to invest in our youth as this would ensure a skilled and capable workforce to support growth and job creation. "Last year, we launched the National Youth Development Agency. We have directed the Agency to work faster to establish its structures, throughout the country, so that it can assist us to mainstream youth development programmes within government," he said.
Youth centres
The NYDA is already responding to the President's call to expand its structures throughout the country.
As part of its strategy, it plans to set up Youth Advisory Centres in all the 283 municipalities. This will make their services more accessible, even to people in the most remote rural communities.
Municipalities
"We currently have 113 Youth Advisory Centres at municipalities and we are ready to work faster to establish more structures throughout the country," said NYDA CEO, Steven Ngubeni.
To achieve this, the NYDA needs financial assistance and backing from the municipalities, he said. So far, most municipalities have already shown a keen interest.
Turn the tide
The NYDA is confident that with the pronouncements made by President Zuma and the necessary resources attached to each commitment, the country will soon be ready to turn the tide in the area of youth development.