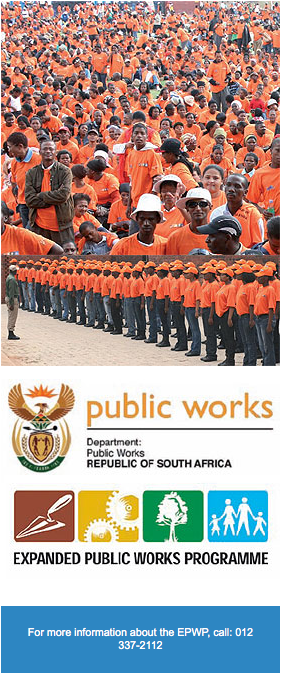 The Expanded Public Works Programme (EPWP)
The Department of Public Works recognises excellence in the implementation of the Expanded Public Works Programme (EPWP) through the annual Kamoso Awards.
The awards recognise excellence in the following threesectors:
Infrastructure
Social
Environment and Culture
The 2009 Kamoso Awards were successfully hosted in November with the introduction of a new category, namely:
Best Innovation Project in all the sectors.
The Kamoso Awards recognises the important fact that the basic thrust of our government is to improve the general socio-economic conditions of our people. As a result, the effective implementation of the EPWP is at the core of this national project.
The Kamoso Awards serve to highlight the growth of the EPWP as one of the most important forms of unemployment insurance and social protection.
The Kamoso Awards were launched in 2004 to reward national, provincial, local government and public bodies that excelled in implementing the EPWP.
Who qualifies?
all implementers of EPWP projects throughout South Africa
any national, provincial or local government, as well as state-owned enterprises implementing EPWP
any implementer in all four sectors can enter or be nominated.